APA News Digest
July 28, 2023
Editor's note: Some links in this message will work best if you log in to AlliedPilots.org before clicking them.
---
In This Edition ...
---
Agreement in Principle Reached on Proposed Tentative Agreement 2.0
On Thursday, the APA Negotiating Committee notified the Board of Directors that they had reached an Agreement in Principle with management on proposed enhancements to the Tentative Agreement. The AIP, including all related contract language, has been submitted to the Board. The Negotiating Committee summarized the proposed enhancements in a message to the membership.
The Board has scheduled a special meeting for 0900 Central on Monday. If the Board approves the proposed TA 2.0, it will then be subject to membership ratification, with the Board establishing new schedules for the ratification vote and associated road shows.
Here are links to each APA Information Hotline that we have published since the July 21 edition of the APA News Digest:
---
2Q23 Earnings – By The Numbers
The following are overview numbers recently reported by Delta, United, and American. While not an all-inclusive financial review, it provides a sample of operating and pre-tax profits (with related margins), free cash flow as reported by each airline, as well as their respective earnings per share (EPS) guide for the full year 2023.
2Q23 Earnings – Operating Profit/Margin & Pre-Tax Profit/Margin (Adjusted)
| | | | | |
| --- | --- | --- | --- | --- |
|   | Operating Profit | Operating Margin | Pre-Tax Profit | Pre-Tax Margin |
| DAL | $2.5B | 17.1% | $2.2B | 15.2% |
| UAL | $2.4B | 16.8% | $2.2B | 15.3% |
| AAL | $2.2B | 15.4% | $1.8B | 12.8% |
Free Cash Flow (Adjusted) (Non-GAAP)
DAL: $1.1B
UAL: $2.2B
AAL: $1.2B
Earnings per Share (EPS) Full Year 2023 Profit Forecast by Each Airline
DAL: $6.00-$7.00 EPS (Diluted Shares = 642,000)
$3.9B-$4.5B Profit
UAL: $11.00 -$12.00 EPS (Diluted Shares = 331,500)
$3.6B-$4.0B Profit
AAL: $3.00-$3.75 EPS (Diluted Shares = 719,345)
$2.2B-$2.7B Profit
Source: Companies' 2Q23 8K filings
---
Reassignment Premium
This is the latest in a series of Q&As from the APA Contract Compliance Committee.
Q: I have experienced a Misconnect, Illegality, or Cancellation (MIC) on my sequence. I am a Lineholder, and Crew Tracking is returning me to base on what was originally a day off. Am I entitled to Premium for working on my scheduled day off?
A: If your sequence contains Replacement Flying that complies with JCBA Section 4.C.2.c.(2) – returning you to base on the first available flight(s), either direct or connecting – you would not be entitled to additional Premium. However, if you were not returned on the first available flight(s), then you would qualify for Reassignment Premium (RA PREM). This RA PREM is based on the actual time flown or the scheduled deadhead time that resides outside the original Sequence Footprint (Section 15.N.3.).
RO = first available flight(s), outside of the original Replacement Flying Window (RFW)
AF = not the first available flight(s), outside of the original Replacement Flying Window (RFW)
If you find the incorrect coding applied to the legs contained within your sequence, a call to Crew Tracking at the conclusion of the sequence should correct the situation. It may prove useful to have the alternative routing readily available when you make the call to Crew Tracking. Once the AF is applied, ensure that the RA PREM is added by PayComp; a Direct Connect reminder may be necessary. The RA PREM should be annotated on your schedule three to four days after the Direct Connect is submitted.
Section 4.C.2.c.(2)
c. Replacement Flying - Flying that is assigned / awarded by the Company to a pilot whose sequence, or portion thereof, has cancelled.
(1) Replacement Flying Window - (i) The Sequence Footprint plus four (4) hours, or the end of the calendar day, whichever is later, or (ii) the Sequence Footprint, plus thirty (30) hours for Trans Oceanic sequences, including to/from Hawaii, U.S. to South of the Equator.
(2) The Replacement Flying Window may be extended beyond C.2.c.(1) above if the pilot flies or is deadheaded on the first available flight(s) to base. The "first available flight(s) to base" is the flight(s) that arrives at the base the earliest. The flight(s) may be direct or indirect.
Section 4.C.3.a.(6)
(6) Premium pay provisions shall apply for any reassignment during replacement flying that result in a pilot flying beyond the Sequence Footprint (of the originally cancelled sequence).
Section 15.N.3.
3. In addition to 2. above, when a pilot is reassigned to flying that resides outside of the originally scheduled sequence footprint that pilot shall also receive a premium of:
a. pay, no credit, at a rate of one-half (50 percent) times the pilot's hourly base pay rate for that time flown outside of the footprint of the pilot's regularly scheduled sequence footprint.
b. Any additional flight time pay and credit associated with paragraphs E., F. or G that was generated as a result of the reassignment outside the original sequence footprint does not qualify for the premium described in a. above.
---
VA Disability Opportunity for Disclosure
This is a repeated message from the APA Medical Advisors.
VA Disability Ratings have been a recent subject of concern for many pilots. Disability benefits and/or related medical conditions must be disclosed to the FAA. The FAA is seeking to reconcile any inaccuracy or failure to report on past medical applications by providing an opportunity for disclosure.
All First-Class Airman Medical Certificate holders with unreported VA benefits must submit a new medical application and schedule an appointment with an AME when their current medical expires, or no later than July 31, 2023, whichever is earlier.
Any questions regarding this should be directed to the APA Medical Advisors. Failure to submit an expedited reapplication and reexamination in accordance with the FAA's timeline or failure to disclose all reasonably known information may result in legal enforcement action.
---
Pigs of the Week

APA commends American Airlines' hardworking aircraft maintenance technicians for their outstanding work. We believe they are the best in the business. When repetitive problems do arise, they're often due to managerial decisions that fail to properly prioritize tasks and to management's decision to outsource a significant portion of the airline's maintenance to offshore, third-party repair stations.
In the last month, the right engine bleed air on A321 aircraft 579 has been written up six times and has been out of service five times. It most recently returned to service on July 24.
Since July 18, the green hydraulic system on A319 aircraft 801 has been written up six times and has been out of service five times for overheating. It most recently returned to service on July 24.
In the last month, the right engine IDG (integrated drive generator) on A319 aircraft 771 has been written up eight times. Since July 17, it has been out of service six times for IDG over temp while the APU was on MEL. At the time of this writing, it remained out of service.
---
APA Welcomes New Pilots
This is a new message from the APA Membership Committee.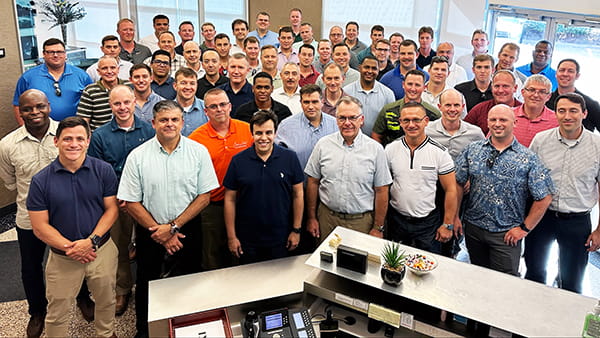 Click the image for a closer look.
The APA Membership Committee welcomed the following pilots during a casual dinner on July 25: Jesus Aguilar, Michael Alexander, Julian Arrocha, Ryan Baskette, Kevin Blount, James Bowers, Erik Bransdorfer, Mick Brindle, Thomas Burke III, Charles Caldwell, James Carraway, Bradley Cochran, Richard Corman, Andrea Cossidente, Trond Dalsplass, Byron Darnell Jr., John Daugherty, Bruno Della Maggiori, Casey Dupell, Jeffrey Emerich, Andrew Forsyth, Aaron Frey, Przemyslaw Gargol, Joseph Garry, Chad Hennings, John Horn, Aaron Johnson, Christopher Kerlee, Matthew Krinn, Mason Kutruff, Nicholas Meikle, Massimiliano Modica, Carlos Montanez, Alan Nagy, Jason Nance, Marc Nichols, Christian Pedersen, Taen Pied, Russell Pierce, Carl Pitts, Michael Popo, Thomas Radikin, Noah Reitter, Adam Robinson, Luiz Henrique Rodrigues Mangolim, Carlos Rodriguez Dominguez, Denville Sam, Robert Scherer, Jason Schnitker, Brandon Spear, Jeffrey Stahl, Jarod Steen, Dan Stewart, Roberto Vecco Arze, Jereme Warner, Jason Warren, Jared White, and Adrian Wilbert.
---
APA Welcomes Captains' Leadership Class
This is a new message from the APA Membership Committee.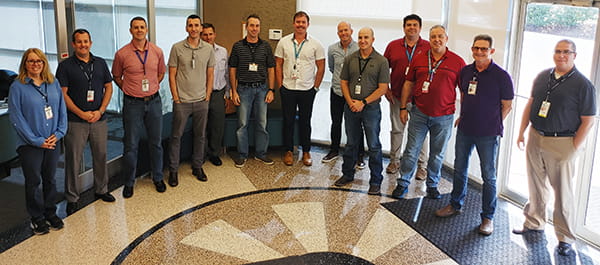 Click the image for a closer look.
On July 26, the APA Membership Committee hosted a casual dinner for the following pilots who were in Fort Worth for American Airlines' Professionalism, Leadership, and Mentoring class: James Bouck, Joshua Crowley, Michael Drongosky, Brian Fortier, Cheryl Hanson, Bret Hildebrant, David Hunter, Bradley James, Cassandra Johnson, John Kvetko, Chris Nicholson, Travis Ricks, Andrew Salmon, Paulo Silva, Keith Sternberg, Nicholas Taylor, Steven Wargocki, and Michael Wear.
---
Save the LAX Employee Cafeteria
This is a new message from the LAX Domicile Officers.
It was recently brought to our attention that American Airlines does not intend to offer a space in the new expanded terminal for the employee cafeteria. This has been a staple of LAX for decades, not just for our crews, but crews around the system, agents, mechanics, ramp employees, TSA, and other airport employees. We were told this decision was made in 2018 by AA Corporate Real Estate.
The proposed Tentative Agreement has a $30 cap on crew meal reimbursements. This cap will increase with inflation each year. Try to find a good meal in the LAX terminals without bumping into this cap. This cafeteria is a staple for us. It offers good food at a reasonable price for employees. The breakfast burritos are world famous!
Click here to send an email to those at AA who can affect this decision. Let them know what this means for you and your coworkers. Your email will go to:
Katherine Goudreau, Managing Director, Corporate Real Estate Facilities
Radney Robertson, Managing Director, LAX Operations
Andrew Masiello, LAX Senior Base Manager
LAX Chief Pilots
LAX Domicile Officers
---
Domicile Events
Get more details about these upcoming events at AlliedPilots.org/Calendar:
DFW: Family Awareness event at TopGolf in Austin on Aug. 8
LAX: Concourse Conversations on Aug. 17
LGA: New York Mets game on Sept. 2
PHL: Town hall meeting on July 31
---
Week in Review
The following messages were sent since last week's News Digest was published.
---
Are You Willing to Serve?
Each of these national committees or subcommittees has the indicated number of vacancies:
Aeromedical Committee (1)

Critical Incident Response Program (1)
Disabled Pilot Awareness Subcommittee (3)
Human Intervention Motivation Study Subcommittee (3)
Pilot Occupational Health Subcommittee (2)
Project Wingman Subcommittee (3)

Captain's Authority Committee (5)
Communications Committee (0)

National Communications Network (6)

Compass Project (5)
Grey Eagles Liaison Committee (1)
Jumpseat/Non-Rev Committee (4)
Professional Standards Committee (1)
Retirement & Benefits Committee (2)
Safety Committee (0)

Air Traffic and Procedures Subcommittee (1)
Environmental Sustainability in Aviation Subcommittee (2)

Scheduling Committee (7)
Training Committee (3)

Checkmate (2 on 777 and 1 on 320)
If you would like to serve on one or more of these committees, visit the Member Engagement Portal.
---
Professional Standards FAQs
Can a previous, resolved submission to Professional Standards be referenced in a future action?
No. A resolved issue cannot be used to support other disciplinary actions. An agreement exists with management that Professional Standards referrals are never part of an employee's permanent record. Professional Standards volunteers will never be asked to relate any case information in the employee discipline process. Confidentiality rules apply to management also. Once an issue is released to the Professional Standards program, it is as if management "forgets" the issue ever occurred.
To read all of the FAQs, click here.
Professional Standards' 24/7 hotline: 817-402-2181
---
100-Year-Old Veteran Honored by Dream Flights
Last February, the APA Board of Directors approved a $20,000 donation to Dream Flights, an organization that honors military veterans and seniors with flights in a Boeing Stearman biplane. This week, Fox News covered the Dream Flight of a 100-year-old pilot who flew for the U.S. Navy in both World War II and the Korean War. Click here to watch.
---
If You're 50, Join The Grey Eagles
Are you a pilot for American Airlines, at least age 50, active or retired? Please join The Grey Eagles for food, fun, and fellowship. We offer cruises, conventions, monthly luncheons, retirement dinners, professional mentoring, and assistance to surviving spouses – all for a one-time lifetime fee.
---
Pilot Job Fairs and Future Pilot Seminars
Future & Active Pilot Advisors' next Pilot Job Fair and Future Pilot Seminar are scheduled for Aug. 19 at IAD. Click here for more information.
---
Industry News
For more about what's happening in the industry, be sure to visit the Industry News page on AlliedPilots.org.