APA News Digest
July 14, 2023
Editor's note: Some links in this message will work best if you log in to AlliedPilots.org before clicking them.
---
In This Edition ...
---
RSVP for a Contract 2023 Road Show
The full Tentative Agreement, an Executive Summary of the TA, and Board members' comment letters were posted to the Contract 2023 webpage on July 10.
The APA Policy Manual stipulates that each domicile shall receive a "Road Show" presentation after the membership has at least 14 days to study the aforementioned documents. In accordance with that policy, we have scheduled a series of presentations across the system.
Members are free to attend any of the presentations, regardless of where they are based.
| | | | | |
| --- | --- | --- | --- | --- |
| Base | Date | Time | Venue | RSVP |
| BOS | Aug. 1 | 0900 EDT | Hilton BOS Airport | |
| CLT | July 25 | 0900 EDT | DoubleTree by Hilton South Charlotte Tyvola | |
| DCA | July 27 | 0900 EDT | Hyatt Regency Crystal City | |
| DFW | Aug. 3 | 0900 CDT | Hilton DFW Lakes Executive Conference Center | |
| LAX | Aug. 1 | 1000 PDT | LAX Airport Marriott | |
| LGA | July 27 | 1000 EDT | Martinique Hotel (49 W. 32nd St.) | |
| MIA | July 26 | 1000 EDT | Hilton MIA Blue Lagoon | |
| ORD | Aug. 2 | 0900 CDT | Hilton ORD Airport | |
| PHL | July 26 | 0900 EDT | PHL Airport Marriott | |
| PHX | Aug. 2 | 0900 MST | DoubleTree Suites (320 N. 44th St.) | |
Each of those RSVP links will require you to log into AlliedPilots.org first. That way, the website will be able to identify you. Simply click the "Submit" button, and you should see a message that says, "Your RSVP has been submitted."
---
Did You Miss This Week's Town Hall?
The National Officers hosted a National Town Hall Meeting on July 12 that was largely focused on the Tentative Agreement. Members can click here to watch a recording of the town hall.
Members can also click here to watch three videos of the Negotiating Committee's briefing to the Board of Directors on July 6 as well as a video of the Board's discussion and vote on July 7.
---
Tentative Agreement Ratification Vote
This is an updated version of a message that APA Secretary-Treasurer FO Pat Clark sent to all members on July 11.
Following the Board of Directors' approval of the Tentative Agreement, and in accordance with the APA Constitution and Bylaws, the ratification vote will be conducted via electronic ballot. Voting opens at 0700 Central on July 24 and closes at 0700 Central on Aug. 7.
The electronic balloting will be supervised and conducted by the American Arbitration Association (AAA). Detailed voting instructions were emailed to each member on July 14, when they were also sent via postal mail. (Click here to see an example.)
To review the Tentative Agreement and related information, please visit the Contract 2023 webpage.
Questions? Please contact APA Election Coordinator Kathy Lazenby:
---
Summer Trans-Atlantic Flights – AA at No. 3
Air travel intelligence company OAG (Official Airline Guide) recently released a market analysis of this summer's record-setting figures for flights between the United States and Europe.
According to OAG, "With more flights, strong demand, and capacity once again under pressure in many markets, there is every reason to expect this summer to be a record revenue-producing period for airlines across the Atlantic."
Within the OAG market analysis, the following comparative table was presented: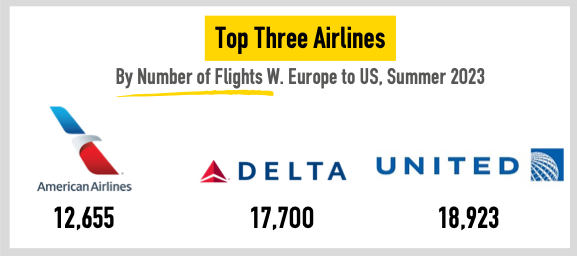 United is responsible for 38 percent of those flights, followed by Delta with 36 percent. American brings up the rear at 26 percent.
---
Deutsche Bank: "Projecting a Record June Quarter Operating Profit"
In a recent note to investors, Deutsche Bank airlines analyst Michael Linenberg provided the following preview of second-quarter earnings:
"We are projecting a record June-quarter operating profit of $7.9 billion for the U.S. airline sector (which we define as the 11 publicly traded airlines operating under their own brand) as a strong demand environment drives industry top-line to an all-time high of $58 billion."
"Pretax profits are estimated to be $6.8 billion – third best ever (after 2017 and 2016) – as the sector deals with an increased debt load and higher interest expense. However, if we were to adjust for United's quarter end operational challenges (see below), industry pretax profit would also be a record."
"While revenues are strong, so are inflationary pressures, which is why industry margins continue to lag the prior cycle. For example, underlying our June-quarter industry forecast is an operating margin of 13.5% and a pretax margin of 11.7%, which compares to margins of 15.9% and 14.5%, respectively, for the 2014-2019 period. Overall, margins are still healthy, but we see further margin upside as the industry recovery gains momentum following its worst downturn ever. And despite the prevailing view that a U.S. recession is on the horizon, we believe the industry is well-positioned to generate strong earnings – even in the face of economic contraction – that will not only represent significant year-over-year growth, but likely lead the majority of S&P sectors. Hence, we continue to maintain a constructive stance toward the group with American, Delta, and United as our top picks."
"So, while we do see a U.S. recession as a potential investment risk for the sector, we share Mr. Bastian's view that running a good airline may be a far greater challenge for management given the numerous constraints across the aviation ecosystem. As one airline executive recently quipped to us, "It is very expensive to run a good airline, but very, very, very expensive to run a bad airline." We couldn't agree more and are of the view that service, reliability, and customer intent to repurchase (via passenger surveys/net promoter scores) may be more significant contributors of airline financial outperformance, at least under the current circumstances, than some of the other key inputs we tend to focus on."
---
Please Make Plans to Join Us at Oshkosh
This is an updated message from the APA Family Awareness Committee.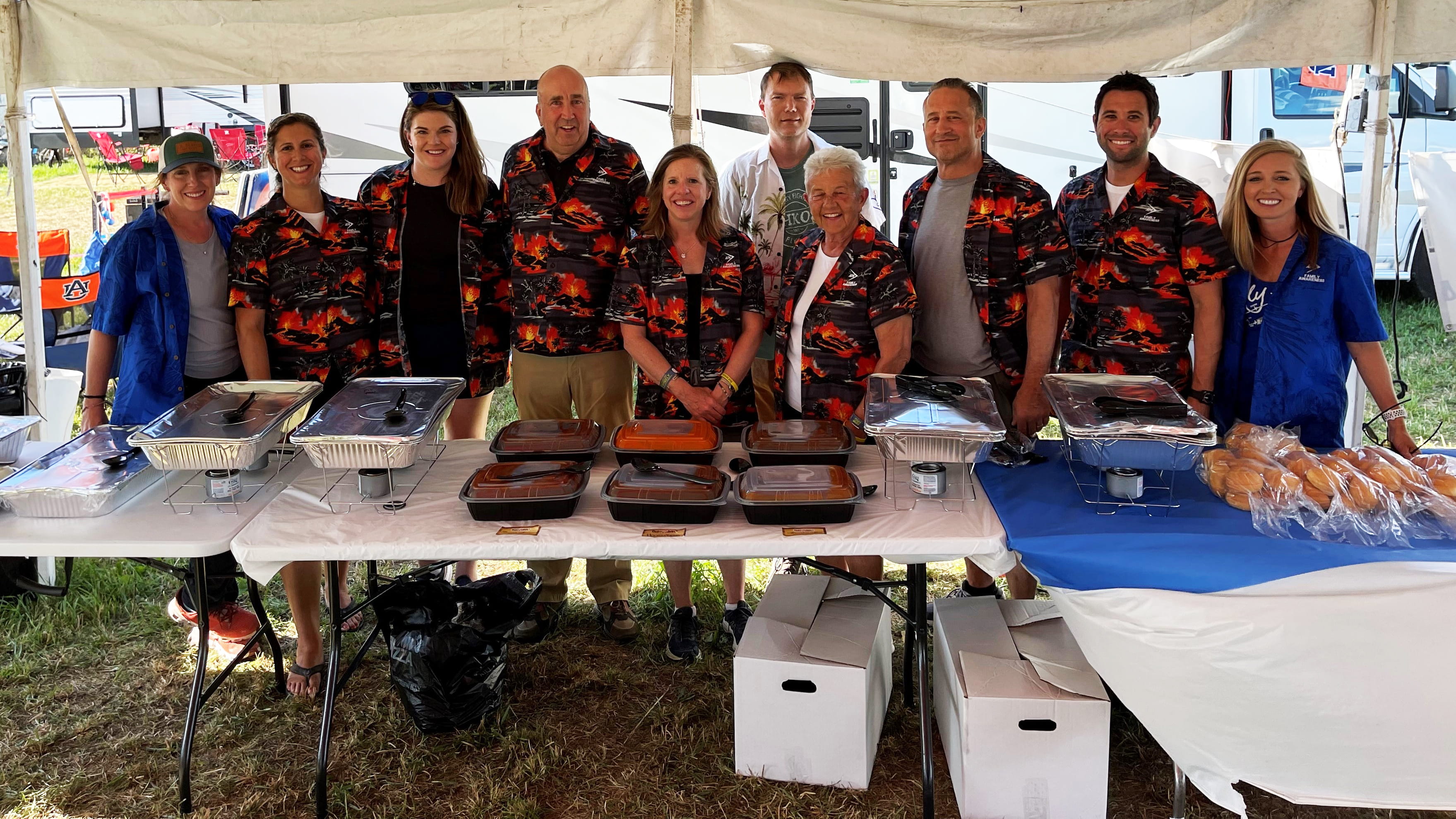 APA will be at EAA AirVenture Oshkosh the last week of July. Many of your elected officials, including APA President CA Ed Sicher and APA Vice President CA Chris Torres, will be in attendance, along with volunteers from national committees. Come gain insight and perspectives directly from those making it happen. And be sure to bring your family, as there will be plenty of snacks during our nightly happy hours.
In addition to the happy hours, we are planning three dinners that week: barbecue on July 26, pizza on July 28, and tacos on July 29. If you plan to join us for any of those meals, please RSVP via the links in the previous sentence so we can ensure there is enough food for everyone.
---
Concourse Conversations at PHX on July 20
This is a new message from the National Communications Network.
APA's National Communications Network will host Concourse Conversations at PHX from 0800 to 1600 on July 20. Look for us in front of the Pei Wei near gate A23.
These events provide an opportunity for members at large to hear directly from union volunteers. We will be collecting feedback to send to the Board of Directors and National Officers. Every pilot who stops by will be given a Starbucks gift card.
---
Make Only One Primary Reservation Per Destination
This is a new message from the APA Jumpseat/Non-Rev Committee.
During this busy summer travel season, please remember the following rules must be followed when reserving the jumpseat on AA mainline flights.
Pilots may book only one primary reservation to the same destination, meaning multiple reservations to the same destination on the same day are NOT permitted.
Exception: If you have an alternate reservation on an earlier flight, then you are permitted to have a primary reservation on a later flight.
You are NOT permitted to have a primary reservation followed by an alternate reservation.
Please refer to the IVR User Guide for additional details.
If you have questions, send them to jumpseat-committee@alliedpilots.org.
---
JetBlue Travel Embargoes for AMS/CDG
This is a new message from the APA Jumpseat/Non-Rev Committee.
JetBlue began service between CDG and JFK on June 29. It will begin service to AMS from JFK on Aug. 29 and to AMS from BOS on Sept. 20. 
JetBlue has placed an embargo on all pass travel, to include ZED fares and jumpseaters, for both cities as follows:
CDG is unavailable June 29 to Sept. 5.
AMS is unavailable Aug. 29 to Sept. 29.
---
Beware of Hotel Allocations in PBS Bid Packages
This is a new message from the APA Hotel Committee.
PBS bid packages are built prior to hotel allocations being complete for that month. Sometimes, the hotel listed on the bid package will not be the allocated hotel for that sequence. Management is working toward a system that would potentially allow them to complete the allocations ahead of the bid package being published; however, they are not there. We recommend that you do not bid for a trip based solely on the hotel listed on the bid package, especially in markets that have three or more hotels.
For more information, see the QRH – Quick Reference Hotels document, which should answer 99 percent of all hotel and transportation questions while providing helpful solutions. Suggestion: Download this QRH document to your AA iPad for easy access in the future.
---
Clearing Up TDY Misconceptions
This is a new message from the APA Compass Project.
Temporary Assignment, or Temporary Duty (TDY), is covered in Section 15, Letter M of our current JCBA. If there is a temporary shortage of pilots in a bid status, the Company may create a temporary vacancy and make it available for pilots, currently qualified and available, to bid. Pilots can either be voluntarily awarded or involuntarily assigned a TDY. Here are three of the most common misconceptions regarding TDY.
"TDY always includes a travel day at the front and back end."
Pilots involuntarily assigned TDY are entitled to a positioning deadhead at the beginning and at the end of the month. While this is typically built as a standalone deadhead-only sequence, it can be built in conjunction with a flight sequence, provided all FAR Part 117 legalities are adhered to. Crew Scheduling cannot build deadheads on a day off unless the pilot agrees to it.
Crew Scheduling will not build a deadhead-only sequence for pilots voluntarily awarded TDY. It is the pilot's responsibility to schedule the travel so that they are in position for their flying or reserve assignment. Pilots who are voluntarily awarded TDY are allowed to use A1/A3 travel to/from their TDY base.
"But what if I have carry-in flying or a large block of reserve days through the monthly transition?"
The short answer is that you can't be in two places at once, and you always need to have legal rest between duty periods. Whether you were assigned or awarded the TDY, there needs to be an opportunity for you to get to your new base. It's a little easier for pilots who are assigned TDY, as you will get a deadhead built into your sequence or Crew Scheduling will build you a standalone deadhead-only sequence.
Pilots awarded a TDY must still have a period free from duty that is adequate in length to position themselves to their new base and be rested and fit for duty. We can't cover every situation that might create a conflict, but the bottom line is that, when a conflict arises, Crew Scheduling must fix the conflict.
"TDY is being offered in my status, but I have training that month. I'm not eligible, right?"
Not true! The company has been known to award TDY, both voluntary and involuntary, to pilots who have CQT scheduled. This is not necessarily consistent from month to month, so if you are interested in TDY, and are scheduled for CQT, bid it anyways!
If you would like more information about TDY, the Compass TDY Guide covers subjects such as TDY bidding, A-Pass travel, hotels, transportation, pay and much more.
The APA Compass Project is an industry-leading pilot mentoring and support program. Compass offers one-on-one support from experienced line-pilot sponsors, as well as tutorial videos and an extensive database of stage-based documents covering a number of helpful topics that are beneficial to all pilots. Click here for more information.
---
Duty Free Period vs. Reserve Availability Period
This is the latest in a series of Q&As from the APA Contract Compliance Committee.
Q: I am a Short Call Reserve pilot and was assigned into one or more Duty Free Periods (DFPs). My DFPs were "slid" in 24-hour increments after domicile rest concluded and now infringe on my pre-assigned Reserve Availability Period (RAP). Shouldn't my RAP be removed? Wouldn't I assume Long Call duty at the end of my slid DFPs? ?
A:  If you have remaining availability within your pre-assigned RAP after the conclusion of your slid DFPs, you will join that RAP in Progress (RIP). However, all legalities will be anchored to the original start time of the RAP. RAP shifting limits and rest requirements will also apply as if you commenced the RAP as originally scheduled. This is the negotiated circumstance where a RIP is applied. A pilot whose RAP has been wholly consumed by the slide will have their pre-assigned RAP for the following day.
Reference: See the 10th item in the DOTC/RAS Settlement Agreement from 2018.
---
SWAPA Plans to Picket on Aug. 31
This is a repeated message from the APA Strike and Tactical Operations Planning Committee.
The Southwest Airlines Pilots Association is planning to conduct informational picketing on Aug. 31 at five airports: ATL, BWI, HOU, LAX, and MDW. The brief at each location will begin at 0830 local time, except for LAX, where it will begin at 1000 Pacific. If you can stand with your fellow union pilots that day, click here to RSVP.
---
VA Disability Opportunity for Disclosure
This is a repeated message from the APA Medical Advisors.
VA Disability Ratings have been a recent subject of concern for many pilots. Disability benefits and/or related medical conditions must be disclosed to the FAA. The FAA is seeking to reconcile any inaccuracy or failure to report on past medical applications by providing an opportunity for disclosure.
All First-Class Airman Medical Certificate holders with unreported VA benefits must submit a new medical application and schedule an appointment with an AME when their current medical expires, or no later than July 31, 2023, whichever is earlier.
Any questions regarding this should be directed to the APA Medical Advisors. Failure to submit an expedited reapplication and reexamination in accordance with the FAA's timeline or failure to disclose all reasonably known information may result in legal enforcement action.
---
Pigs of the Week

APA commends American Airlines' hardworking aircraft maintenance technicians for their outstanding work. We believe they are the best in the business. When repetitive problems do arise, they're often due to managerial decisions that fail to properly prioritize tasks and to management's decision to outsource a significant portion of the airline's maintenance to offshore, third-party repair stations.
In the last two months, A321 aircraft 586 has been written up 12 times for right engine bleed air and has been out of service eight times. It was most recently signed off on July 13.
In the last week, A321 aircraft 575 has been written up five times for right engine start faults and has been out of service five times. It was most recently signed off on July 13. At the time of this writing, its routing was restricted to AA maintenance stations.
---
APA Welcomes New Pilots
This is a new message from the APA Membership Committee.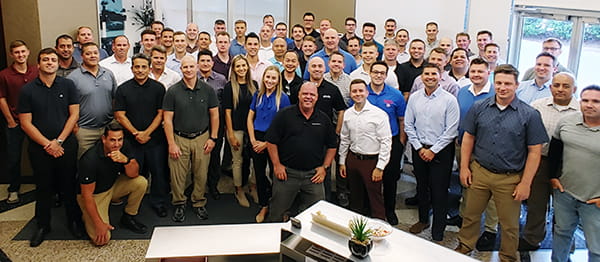 Click the image for a closer look.
The APA Membership Committee welcomed the following pilots during a casual dinner on July 11: Matthew Akers, Zachary Albertini, Hillel Attali, Jason Bagwell, Edward Balzer IV, Jeffrey Belanger, Christopher Benavides, Cody Benham, Peter Buffkin Jr., Jonathan Burdick, Gareth Bussa II, Lee Carlson, Kayla Criscenzo, James Cunningham III, Charles Daniels, Wesley Davis, Henry Deed, Peter Demesmaeker, Bryan Denton, Darin Dial, Kevin Dunbar, Robert Fender, Christopher Frolander, Juan Gallego, Omer Golan, Jacinto Gonzalez Jr., Finnegan Gruggett, Timothy Hammond, Donovan Hampton, William Harders, Patricia Humphries, Craig Hutchinson, Nov Ing, Michael Janda, Cameron Kissell, Vladimir Kolesnikov, Brian Kuhn, Aaron Litt, Gary Marlowe, Christopher Marriott, Alan Matthews, Brian Matthews, Edgardo Melendez Rodriguez, Ronny Menendez, Samuel Moreland, Benjiman Morris, Kirk Nelson, Andrew Nemethy, James Nussey, David Orlosky, Christopher Ott, Chloe Pedersen, Vincent Rolletta III, Lucas Sawyer, Joseph Sempio, Kaitlin Shaffery, Ryan Thornburg, Joshua Wagner, Chris Whitman, Brian Wilson, Kyle Wolinski, and John Zachary.
---
APA Welcomes Captains' Leadership Class
This is a new message from the APA Membership Committee.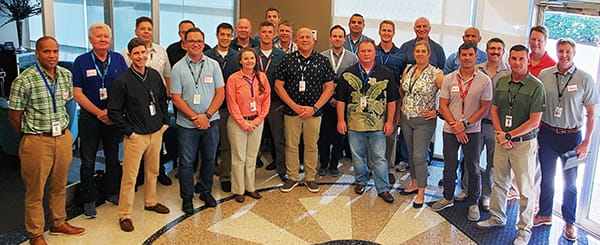 Click the image for a closer look.
On July 12, the APA Membership Committee hosted a casual dinner for the following pilots who were in Fort Worth for American Airlines' Professionalism, Leadership, and Mentoring class: Roger Andersen, Kirk Anderson, Robert Beale, Ronald Boyle, Donald Butler, Leandro De Los Santos, Ralph Delatour, John Dobbins, Todd Dornlas, Erin Fagan, Juan Gutierrez, Daniel Housley, Kelly Kareis, David Kelley, Clinton Kennedy, David Kirk, Kelly Ladd, Amanda Lantz, Steven Lasker, William Magyar, David Martinez, Carolyn McDuff, Sean Noel, Ilian Peltekov, Alan Radford, David Ramsey, Rafael Rivera, Timothy Scaife, James Sowden, Adam Steichen, Ray Tidwell III, Devin Tolentino, Jonathan Uhler, Mitchell White, and John Yelick.
---
Congratulations to Recent Retirees
This is a new message from the APA Membership Committee.
We would like to recognize and congratulate the following pilots who retired in May and June.
CLT: CA James Bebeau, CA John Bertelsen, CA Jimmy Bradley, CA Kerry Cummings, CA Paul Dobracki, CA Brian Dominick, CA Gregory Farbo, CA William Gary, CA Clifford Houtz, CA Richard Maury IV, FO Tony McMillan, FO James Ritcher, FO William Scileppi, CA James Sgueglia, FO William Simons, CA Stephen Spencer, CA Scott Valdez, and CA Gregory Wicker
DCA: CA Joseph Bretthauer, CA Pat Donnelly, CA David Gregg, CA Michael Hannin, CA Stephen James, CA Herbert McMillan, CA Glenn Woodruff, and CA Charles Yetsconish
DFW: CA James Acree, CA Lawrence Bell, CA Roger Bransford, CA Michael Canatella, CA Daniel Carey, CA Bradley Chatfield, CA James Connor, FO Dominic Decrescentis, CA Joseph Fonseca, CA Matt Harris, CA Charles Hughes, FO Michael Hulcher, CA Kevin Jones, CA Nick Kuklenski, FO Jeffry Martinec, CA John Mielcarek, CA Gene Mitchell, CA Charles Morris, CA Mary Muehlbauer, CA James Ousley Jr., CA Johannes Overman, FO Marie Ramos, CA Paul Rheudasil, CA Colin Richardson, CA Michael Riehl, CA David Sapiro, FO Keith Sauls, CA Louis Shaheen, CA Daniel Siciliano, FO William Stotlar, FO James Swenor, CA Samuel Tait, CA Jeff Thurstin, CA Richard Tierney, CA Kelvin Trott, CA Frank Vinci, CA Steve Weaver, and CA Frank Zak
LAX: CA Lauro Aguila, CA Robert Dusair, FO Michael Halpin, FO Robert Hostager, CA Benjamin Ledley, CA Ronald Minkin, CA M Nibley, FO Mark Perusse, CA Robert Scott, CA Scott Turner, CA Colin Violette, and FO Margaret Watt
LGA: CA Matthew Gailing, FO J.L. Gowan, CA Glenn Hoffson, CA Robert Jones, CA Frank Lacorte, FO Brett Lassen, CA John Neal, CA Timothy O'Neill, CA Thomas Parker, CA Michael Schmidt, and CA Paul Strevy
MIA: CA Michael Bake, CA Rex Brewer, CA Robert Campbell, CA Michael Ceruti, CA Kris Cornett, CA Michael David, CA Paul Deegan, CA David Ditzel, CA Daniel Everts, CA Richard Eyre, FO Kevin Knitter, CA David Lint, CA Mike Long, FO James Luzzi, CA Philip Manning, CA Michael Slogar, CA William Wiebler, and CA James Witham
ORD: CA Judson Birza, CA Kurt Jansen, CA Peter Menke, CA Thomas Moquin, CA James Nikodem, FO Seth Peterson, CA Peter Thompson, CA Dirk Vause, and CA Ralph Viets
PHL: CA Timothy Averett, CA Mark Bonaparte, CA Brandon Hubley, FO Mark Kennedy, CA Ralph Kruger, CA Kirk Kubias, CA Steve MacDonald, CA William Northrup, CA Andrew Nystrom, CA Del Padgett, CA Robert Strand, FO Bruce Taylor, CA Laurence Terry, and CA George Walters
PHX: CA Steven Brennan, CA David Cook, CA Steven Korcheck, CA Caron Octigan, and FO David Watson
---
Domicile Events
Get more details about these upcoming events at AlliedPilots.org/Calendar:
BOS: TA Road Show on Aug. 1
CLT: TA Road Show on July 25
DCA: Baltimore Orioles game on July 17; TA Road Show on July 27
DFW: TA Road Show on Aug. 3; Family Awareness event at TopGolf in Austin on Aug. 8
LAX: TA Road Show on Aug. 1; Concourse Conversations on Aug. 17
LGA: TA Road Show on July 27; New York Mets game on Sept. 2
MIA: TA Road Show on July 26
ORD: TA Road Show on Aug. 2
PHL: TA Road Show on July 26
PHX: Concourse Conversations on July 20; Arizona Diamondbacks game on July 24; TA Road Show on Aug. 2
---
Domicile Elections
PHL and PHX pilots will elect a Chair and a Vice Chair to represent each domicile on the APA Board of Directors for a two-year term starting on Nov. 1.
The following pilots whose names were submitted for nomination have completed the Willingness to Serve and Conflict of Interest forms.
PHL Chair
FO Michael Drost
CA Francis Heid
CA Brian Sweep
PHL Vice Chair
FO Jordan Glasner
CA Brian Sweep
PHX Chair
CA Herschel Beard IV
CA Michael Saracino
FO Jim Varden
PHX Vice Chair
FO Jeremy Ryder
FO Jim Varden
Candidates' resumes will be mailed and posted on Aug. 9.
Election Round ballots will be mailed on Sept. 7 and tallied on Sept. 28.
If necessary, Runoff Round ballots would be mailed on Oct. 10 and tallied on Oct. 31.
If you have any questions, call the APA Elections Department at 817-302-2175.
---
Week in Review
The following messages were sent since last week's News Digest was published.
---
Are You Willing to Serve?
Each of these national committees or subcommittees has the indicated number of vacancies:
Aeromedical Committee (1)

Critical Incident Response Program (1)
Disabled Pilot Awareness Subcommittee (3)
Human Intervention Motivation Study Subcommittee (3)
Pilot Occupational Health Subcommittee (2)
Project Wingman Subcommittee (3)

Captain's Authority Committee (5)
Communications Committee (0)

National Communications Network (6)

Compass Project (6)
Grey Eagles Liaison Committee (1)
Hotel Committee (2)
Jumpseat/Non-Rev Committee (4)
Professional Standards Committee (1)
Retirement & Benefits Committee (2)
Safety Committee (0)

Air Traffic and Procedures Subcommittee (2)
Environmental Sustainability in Aviation Subcommittee (2)

Scheduling Committee (7)
Training Committee (3)

Checkmate (2 on 777 and 1 on 320)

Uniform (1 female)
If you would like to serve on one or more of these committees, visit the Member Engagement Portal.
---
Professional Standards FAQs
What issues are not appropriate for Professional Standards?
No. A resolved issue cannot be used to support other disciplinary actions. An agreement exists with management that Professional Standards referrals are never part of an employee's permanent record. Professional Standards volunteers will never be asked to relate any case information in the employee discipline process. Confidentiality rules apply to management also. Once an issue is released to the Professional Standards program, it is as if management "forgets" the issue ever occurred.
To read all of the FAQs, click here.
Professional Standards' 24/7 hotline: 817-402-2181
---
If You're 50, Join The Grey Eagles
Are you a pilot for American Airlines, at least age 50, active or retired? Please join The Grey Eagles for food, fun, and fellowship. We offer cruises, conventions, monthly luncheons, retirement dinners, professional mentoring, and assistance to surviving spouses – all for a one-time lifetime fee.
---
Pilot Job Fairs and Future Pilot Seminars
Future & Active Pilot Advisors' next Pilot Job Fairs and Future Pilot Seminars are scheduled for July 15 at ORD followed by Aug. 19 at IAD. Click here for more information.
---
Industry News
For more about what's happening in the industry, be sure to visit the Industry News page on AlliedPilots.org.