In This Edition ...
---
APA Board of Directors Approves Proposed Tentative Agreement
This is an updated version of a message that the APA Communications Committee sent to all members today.
By a vote of 16 in favor and 4 opposed, the APA Board of Directors has approved the proposed Tentative Agreement and initiated the membership ratification process. In taking these actions, the Board approved the following individual motions:
To approve the June 2023 proposed Tentative Agreement and forward it to the membership for a ratification vote.
To approve the written explanation of the Tentative Agreement prepared by the Negotiating Committee in accordance with APA Policy Manual Section 9.06.B.4.
In accordance with APA Constitution and Bylaws Article XII.E, to set the membership ratification voting period on the Tentative Agreement to commence on Monday, July 24, at 0700 Central. Voting shall close on Monday, Aug. 7, at 0700 Central.
In accordance with APA Policy Manual Section 9.06.C., Board members' comment letters regarding the Tentative Agreement will be provided to the membership. These letters will be posted to the Contract 2023 website, along with the written explanation of the Tentative Agreement and the Tentative Agreement itself, after 1200 Central on Monday, July 10.
The Board also voted to approve these motions today:
To amend the motion establishing the August special Board meeting for Aug. 1-3 and instead set it for Aug. 15-17.
To approve eight days of deferred vacation for Jumpseat/Non-Rev Committee Chair FO Steve England, who performed union work during his scheduled vacation in June.
In accordance with R2016-11, we are providing a synopsis reflecting all main motions and resolutions that the Board addressed today.
In accordance with R2017-37 Rev 1, video footage of the open portions of the Board meeting will soon be posted here.
---
Road Shows Will Begin on July 25
APA Policy Manual Section 9.06.C says each domicile shall receive a "Road Show" presentation after the membership has at least 14 days to study the written text of any Tentative Agreement, the proposed implementation schedule, and a comment letter from each member of the Board of Directors who wishes to send one.
Road shows will happen on the following dates. Times and specific locations will be announced no later than July 10.
BOS: Aug. 1
CLT: July 25
DCA: July 27
DFW: Aug. 3
LAX: Aug. 1
LGA: July 27
MIA: July 26
ORD: Aug. 2
PHL: July 26
PHX: Aug. 2
---
National Town Hall Meeting on July 12
Your National Officers will host a National Town Hall Meeting via Zoom at 1600 Central on Wednesday, July 12.
Click here to register for the July 12 meeting.
This meeting will primarily focus on the Tentative Agreement and events in the coming weeks, to include road shows and member voting. If you have questions you would like to submit for the meeting, please email those to townhall@alliedpilots.org. The deadline for submitting questions is 2359 Central on Tuesday, July 11. For those unable to participate live, we plan to upload a recording of the town hall to AlliedPilots.org/Videos after the meeting.
---
Join Us for YOUnion 101 on July 12
This is a repeat message from the APA Compass Project.

APA Vice President CA Chris Torres and the Compass Project's Member Engagement Team will host a "YOUnion 101" meeting via Zoom at 1100 Central on Wednesday, July 12. This meeting focuses on all aspects of APA membership. While it is geared toward our newest pilots, all are welcome and encouraged to attend.
After registering, you will receive a confirmation email containing information about joining the webinar.
---
SWAPA Plans to Picket on Aug. 31
This is a new message from the APA Strike and Tactical Operations Planning Committee.
The Southwest Airlines Pilots Association is planning to conduct informational picketing on Aug. 31 at five airports: ATL, BWI, HOU, LAX, and MDW. The brief at each location will begin at 0830 local time, except for LAX, where it will begin at 1000 Pacific. If you can stand with your fellow union pilots that day, click here to RSVP.
---
Please RSVP for Dinners at Oshkosh
This is a repeat message from the APA Family Awareness Committee.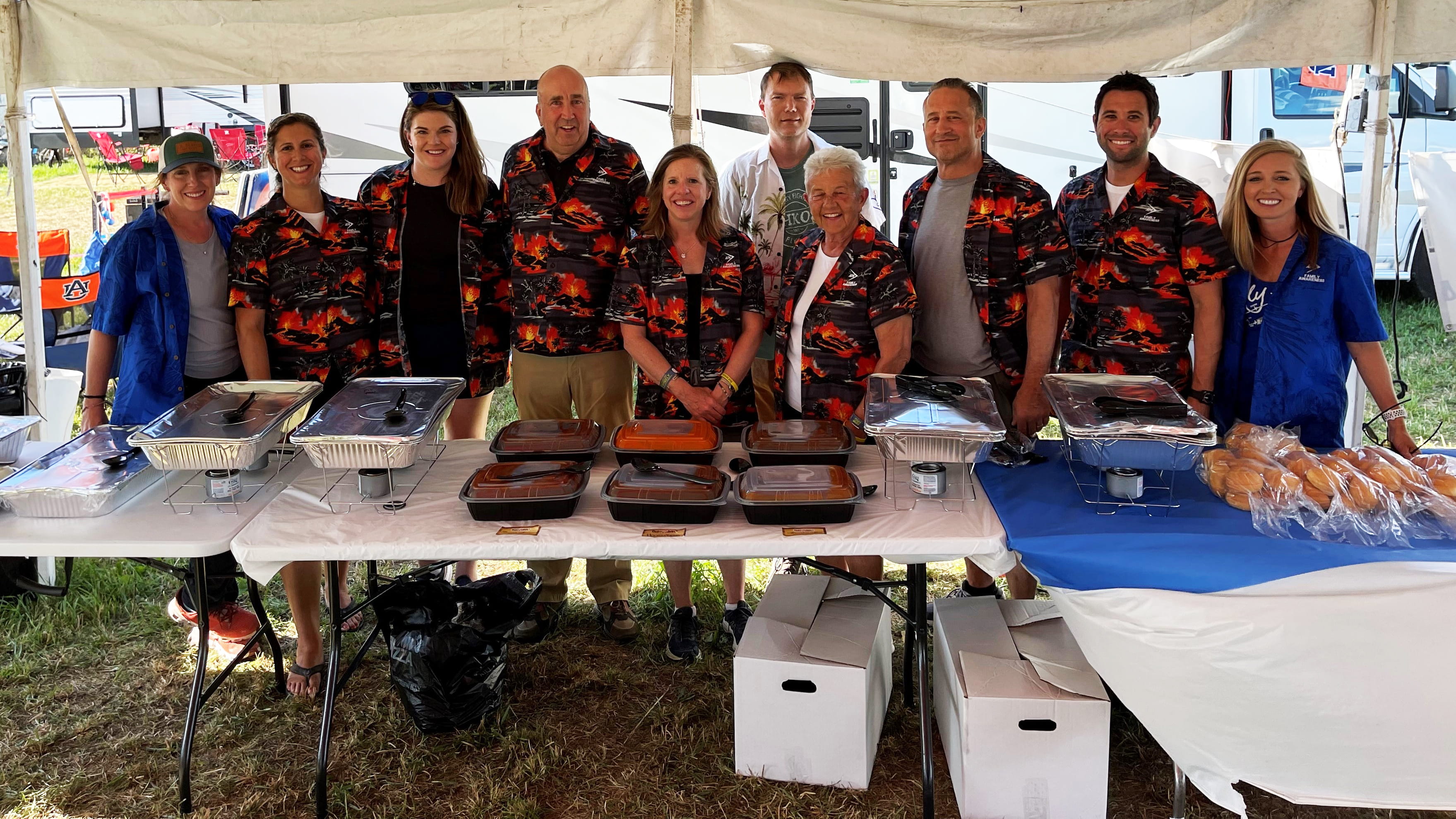 APA will be at EAA AirVenture Oshkosh for six days: July 24-29. Many of your elected officials, including APA President CA Ed Sicher and APA Vice President CA Chris Torres, will be in attendance, along with volunteers from national committees. Come gain insight and perspectives directly from those making it happen. And be sure to bring your family, as there will be plenty of snacks during our nightly happy hours.
In addition to the happy hours, we are planning three dinners that week: barbecue on July 26, pizza on July 28, and tacos on July 29. If you plan to join us for any of those meals, please RSVP via AlliedPilots.org/Calendar so we can ensure there is enough food for everyone.
---
Deadhead to Live Leg
This is the latest in a series of Q&As from the APA Contract Compliance Committee.
Q: When can a pilot with a deadhead-only duty period be converted to a live leg?
A: A pilot with a DH only duty period may be assigned to fly a live leg:
If the pilot received the DH only duty period assignment as the result of a mid-sequence down line fatigue event; or
If the pilot is notified of the conversion and is provided legal rest prior to the assigned flight duty period
Note: A pilot has no contractual obligation for contact while on an ODL.
Deadhead to Live Leg Settlement Agreement
---
Our Recommended Reading List
This is a new message from the APA Aeromedical Committee.
In an effort to improve our members' health, we have created a recommended reading list. Each month, we will highlight a book that has helped in the prevention of, treatment of, or recovery from an injury or illness, or has elevated a member's education. Feel free to send your book recommendations to aeromed-committee@alliedpilots.org.
The Toxin Solution: How Hidden Poisons in the Air, Water, Food, and Products We Use Are Destroying Our Health – and What We Can Do to Fix It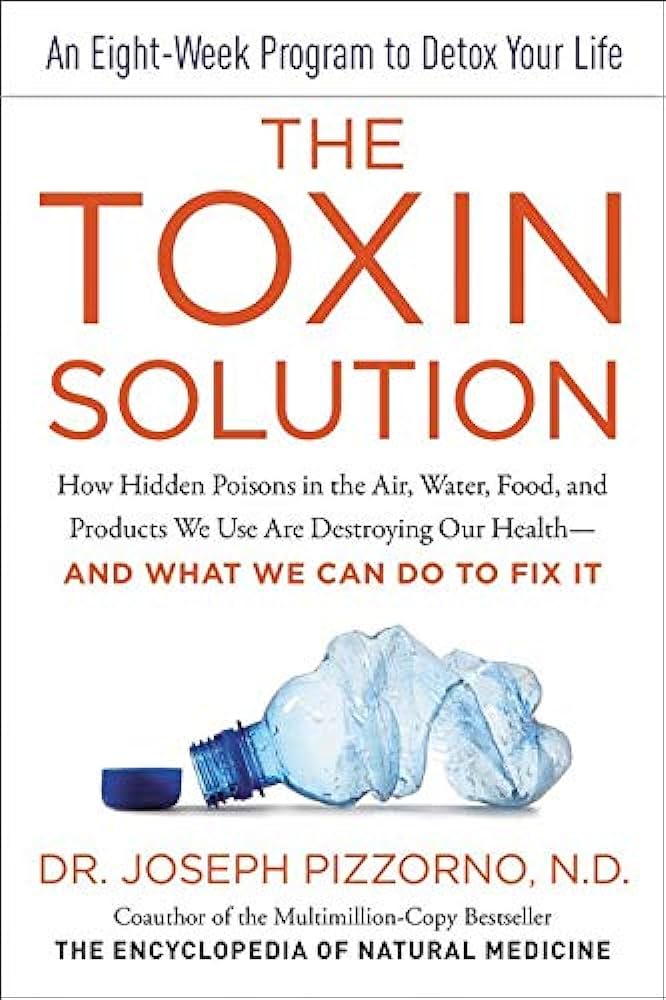 Dr. Joe Pizzorno founded Bastyr University, the nation's first and largest fully accredited university of natural medicine. He is convinced that lifelong good health rests on two key determinants: your exposure to toxins and your ability to process them in your body. While lifestyle, diet, and genetics all play major roles in well-being, many symptoms of declining health and chronic disease are rooted in toxic overload.
In The Toxin Solution, Dr. Pizzorno provides the proven detox and tailored methods he has developed to heal toxic overload and restore health in just eight weeks. With this essential guide, you will learn how to avoid toxins in food and the products you use, mend your gut and prepare for detox, support your body in releasing the chemicals, and repair some of the damage toxins have caused.
Disclaimer: This recommendation is for general informational purposes only and does not constitute the practice of medicine or other professional health care services. Always consult with your medical provider when making health care decisions.
---
VA Disability Opportunity for Disclosure
This is an updated message from the APA Medical Advisors.
VA Disability Ratings have been a recent subject of concern for many pilots. Disability benefits and/or related medical conditions must be disclosed to the FAA. The FAA is seeking to reconcile any inaccuracy or failure to report on past medical applications by providing an opportunity for disclosure.
All First-Class Airman Medical Certificate holders with unreported VA benefits must submit a new medical application and schedule an appointment with an AME when their current medical expires, or no later than July 31, 2023, whichever is earlier.
Any questions regarding this should be directed to the APA Medical Advisors. Failure to submit an expedited reapplication and reexamination in accordance with the FAA's timeline or failure to disclose all reasonably known information may result in legal enforcement action.
Click here to download your My HealtheVet records as a PDF. You will need to get the document that shows your TOTAL benefit and the breakdown. If you do not have a My HealtheVet account, take time to register today.
---
Pigs of the Week

APA commends American Airlines' hardworking aircraft maintenance technicians for their outstanding work. We believe they are the best in the business. When repetitive problems do arise, they're often due to managerial decisions that fail to properly prioritize tasks and to management's decision to outsource a significant portion of the airline's maintenance to offshore, third-party repair stations.
In the last week, the first officer's airspeed on A320 aircraft 128 has been written up and out of service three times. It most recently returned to service on July 7.
Since June 26, the weather radar/windshear on A319 aircraft 754 has been written up seven times and been out of service four times. It most recently returned to service on July 7.
In the last three weeks, the right engine bleed air on A321 aircraft 995 has been written up and out of service five times. It most recently returned to service on July 5.
---
APA Welcomes Captains' Leadership Class
This is a new message from the APA Membership Committee.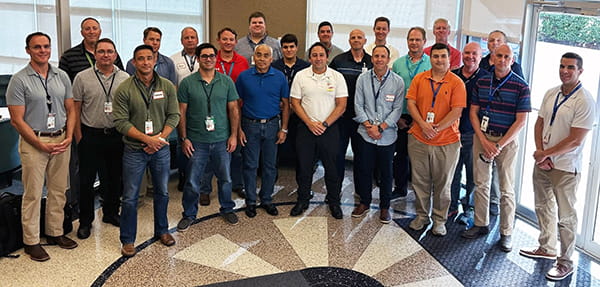 Click the image for a closer look.
On July 6, the APA Membership Committee hosted a casual dinner for the following pilots who were in Fort Worth for American Airlines' Professionalism, Leadership, and Mentoring class: Adrian Arjonilla, Perfecto Bahena, Jonathan Barlow, Kendall Bascom, William Browning, Robert Chambers, Christopher Chapekis, Carlos Coloma, Jason Conner, Thomas Crews V, Rene Dam, Michael Drongosky, Kenneth Evans, John Fierro, Michael Halliday-Williams, David Hoekstra, Glen Jackson, Jeffrey Johnson, Timothy Kahoe, Nicholas Kinner, Karl Lamm, Thomas Leisek, Duncan Mackechney, Jonathan McMillian, Kyle Morales, Jason Oliveira, Seth Pelletier, Michael Pfeifer, James Reagan, Jarod Robinson, Samuel Rodriguez Caballer, Kyrylo Romanovych, John Seitz, and Myron Stoltzfus.
---
Gone West
This is a new message from the APA Membership Committee.
We extend our deepest sympathies to the loved ones of these pilots, whose deaths we learned of last month: Bob Hoover, 68, on Jan. 14; Okley Post, 80, on Feb. 1; Earl "Bob" Wells, 96, on May 2; Rob Axel, 72, on May 13; George Sadler, 65, on May 13; Gene Morris, 94, on May 21; Arthur "Edge" Coppage, 59, on May 25; Cliff Pocock, 92, on May 26; Suzy Charles, 57, on May 28; Ed Danner, 87, on May 28; Joe Folds, 86, on May 29; Bill Ross, 60, on June 3; Vince Nelson, 62, on June 6; Guilliard Thompson, 98, on June 9; and Carl Palmer, 79, on June 20.
---
Domicile Events
Get more details about these upcoming events at AlliedPilots.org/Calendar:
BOS: TA Road Show on Aug. 1
CLT: Retirement Dinner on July 9; TA Road Show on July 25
DCA: Domicile Meeting on July 14; Baltimore Orioles game on July 17; TA Road Show on July 27
DFW: TA Road Show on Aug. 3; Family Awareness event at TopGolf in Austin on Aug. 8
LAX: TA Road Show on Aug. 1; Concourse Conversations on Aug. 17
LGA:TA Road Show on July 27; New York Mets game on Sept. 2
MIA: TA Road Show on July 26
ORD: TA Road Show on Aug. 2
PHL: TA Road Show on July 26
PHX: Concourse Conversations on July 20; Arizona Diamondbacks game on July 24; TA Road Show on Aug. 2
---
Domicile Elections
PHL and PHX pilots will elect a Chair and a Vice Chair to represent each domicile on the APA Board of Directors for a two-year term starting on Nov. 1.
The following pilots whose names were submitted for nomination have completed the Willingness to Serve and Conflict of Interest forms.
PHL Chair
FO Michael Drost
CA Francis Heid
CA Brian Sweep
PHL Vice Chair
FO Jordan Glasner
CA Brian Sweep
PHX Chair
CA Herschel Beard IV
CA Michael Saracino
FO Jim Varden
PHX Vice Chair
FO Jeremy Ryder
FO Jim Varden
Candidates' resumes will be mailed and posted on Aug. 9.
Election Round ballots will be mailed on Sept. 7 and tallied on Sept. 28.
If necessary, Runoff Round ballots would be mailed on Oct. 10 and tallied on Oct. 31.
If you have any questions, call the APA Elections Department at 817-302-2175.
---
Week in Review
The following messages were sent since last week's News Digest was published.
---
Are You Willing to Serve?
Each of these national committees or subcommittees has the indicated number of vacancies:
Aeromedical Committee (1)

Critical Incident Response Program (1)
Disabled Pilot Awareness Subcommittee (3)
Human Intervention Motivation Study Subcommittee (3)
Pilot Occupational Health Subcommittee (2)
Project Wingman Subcommittee (4)

Captain's Authority Committee (4)
Communications Committee (0)

National Communications Network (6)

Compass Project (6)
Grey Eagles Liaison Committee (1)
Hotel Committee (2)
Jumpseat/Non-Rev Committee (4)
Professional Standards Committee (1)
Retirement & Benefits Committee (2)
Safety Committee (0)

Air Traffic and Procedures Subcommittee (3)
Environmental Sustainability in Aviation Subcommittee (2)

Scheduling Committee (7)
Training Committee (3)

Checkmate (2 on 777 and 1 on 320)

Uniform (1 female)
If you would like to serve on one or more of these committees, visit the National Committee Volunteer Portal.
---
Professional Standards FAQs
Since the program is voluntary, can a person choose not to be a part of the program?
The Professional Standards program is completely voluntary. If you are approached by a committee volunteer, it is your choice whether to participate. However, please remember the choice to not participate may lead to the company resolving the issue at their sole discretion.
To read all of the FAQs, click here.
Professional Standards' 24/7 hotline: 817-402-2181
---
If You're 50, Join The Grey Eagles
Are you a pilot for American Airlines, at least age 50, active or retired? Please join The Grey Eagles for food, fun, and fellowship. We offer cruises, conventions, monthly luncheons, retirement dinners, professional mentoring, and assistance to surviving spouses – all for a one-time lifetime fee.
---
Pilot Job Fairs and Future Pilot Seminars
Future & Active Pilot Advisors' next Pilot Job Fairs and Future Pilot Seminars are scheduled for July 15 at ORD followed by Aug. 19 at IAD. Click here for more information.
---
Industry News
For more about what's happening in the industry, be sure to visit the Industry News page on AlliedPilots.org.