In This Edition ...
---
Two APA Board of Directors Meetings Scheduled
The APA Board of Directors has scheduled an emergency special meeting via Zoom beginning at 1400 Central today. As noted in yesterday's announcement, Section 1.02.C of the APA Policy Manual says the following about such meetings: "The purpose of emergency meetings shall be defined in the Call of the meeting, and no other business may be considered at an emergency meeting." The Board intends to address the following items during this meeting:
Reviewing the Association's bargaining strategy
Follow-up discussion with Negotiating Committee
Approval of the Negotiating Committee's written explanation of the proposed TA, in accordance with Policy Manual Section 9.06.B.4.
Board strategy
Motions and tasking
We will post an audio recording of all open portions of today's meeting once it has concluded.
In addition, APA President CA Ed Sicher notified the Board on Tuesday that – in accordance with Article V, Section 3.A.2.a of the APA Constitution and Bylaws; Article XII, Section D of the APA Constitution and Bylaws; and Section 9.06.B.4 of the Policy Manual – he has called an in-person special Board meeting at APA Headquarters beginning at 0900 Central on Thursday, July 6, "for the purpose of evaluating and voting on the recent AIP reached by the Negotiating Committee."
---
Contract Comparison 2023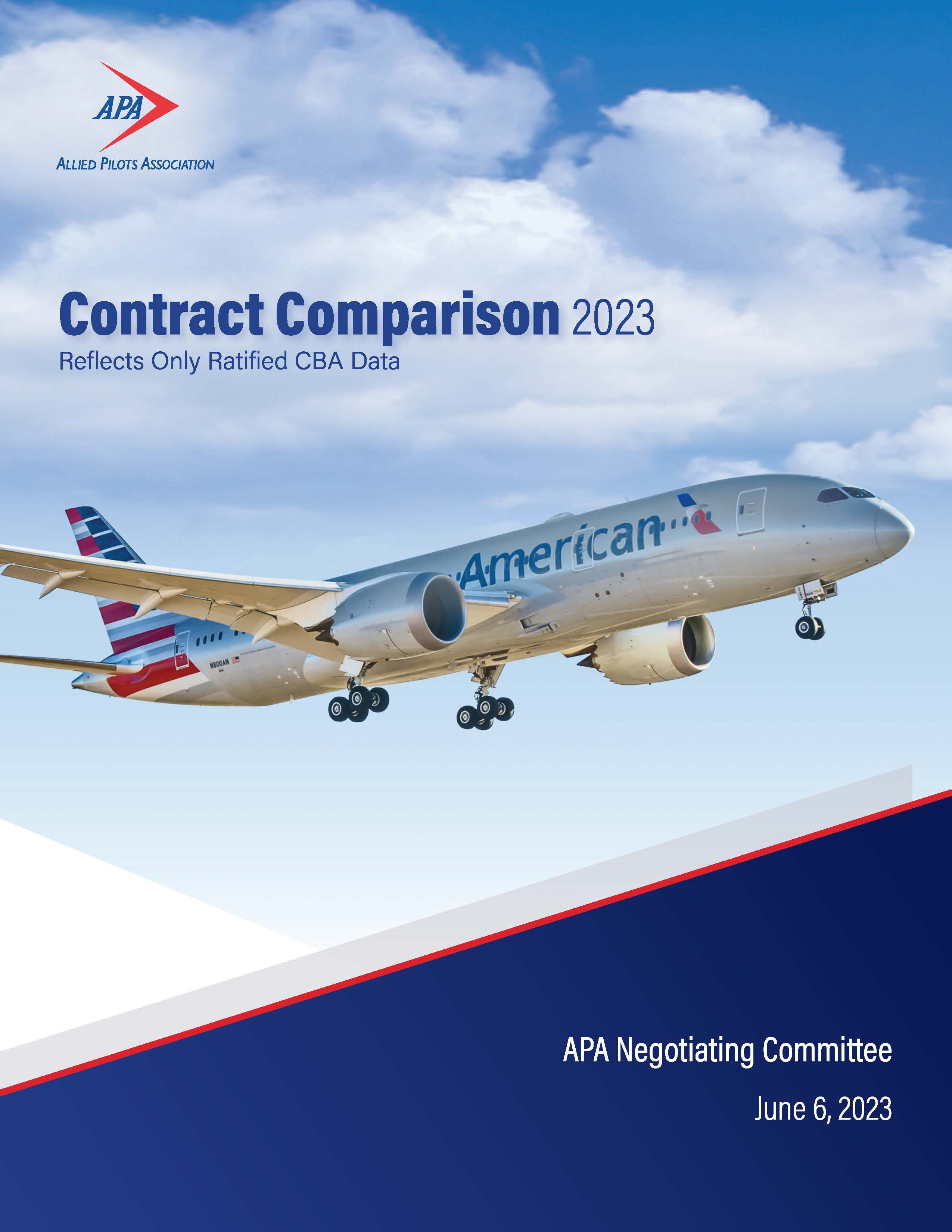 In accordance with APA Policy Manual Section 9.01.A., the Negotiating Committee – with assistance from the Economic & Financial Analysis Committee – has published an updated comparison of ratified collective bargaining agreements for the pilots of American, Delta, United, Southwest, Alaska, Frontier, Hawaiian, JetBlue, and Spirit.
---
5G Rollout at This Point "is Just Crazy"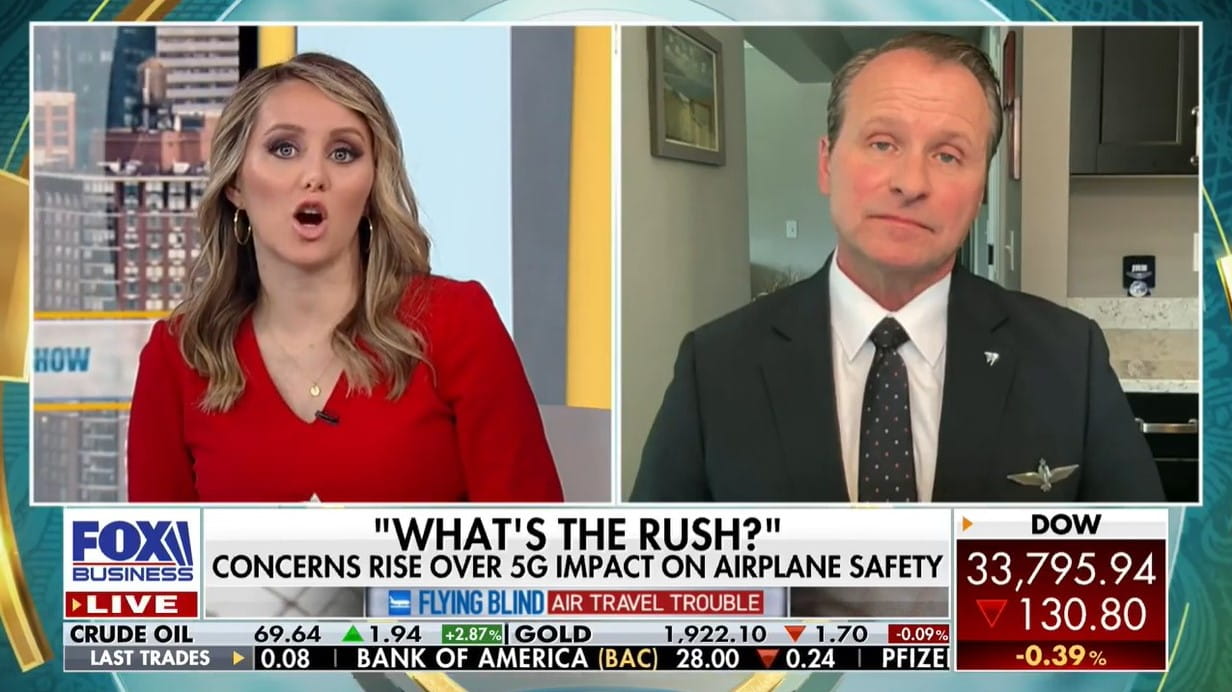 The FAA is set to allow wireless carriers to activate their 5G signals near airports on July 1, the first day of a four-day holiday weekend.
 "Can you imagine that? We're rolling this out at the most epic time of air travel," APA Communications Committee Chair CA Dennis Tajer said during an interview with Fox Business' The Big Money Show on Wednesday.
Although all of American Airlines' mainline aircraft have been retrofitted with technology that should prevent the 5G signals from interfering with radio altimeters, that is not the case for hundreds of planes operated by Delta Air Lines and regional carriers.
"The FAA has actually said, 'There are still a thousand airplanes out there that are not ready for this, but we're gonna do it anyway.' And they've even said in their own document that there are safety implications," CA Tajer told Fox Business. "Why in the world would you roll this out? This is just crazy. I'm less worried about quick downloads of videos than I am about safe downloads of passengers to the airport."
CA Tajer also discussed 5G on Tuesday during an episode of Fox News' America Reports: "The bottom line is, what is the rush on this? This is about safety, and safety should not be rushed. And we're not sure why this deadline is being maintained. All I can say is it seems like this phone is more important than the wings I have on my chest, and that's wrong."
---
APA Supports SEIU: "Without You, There is No Interstate Commerce"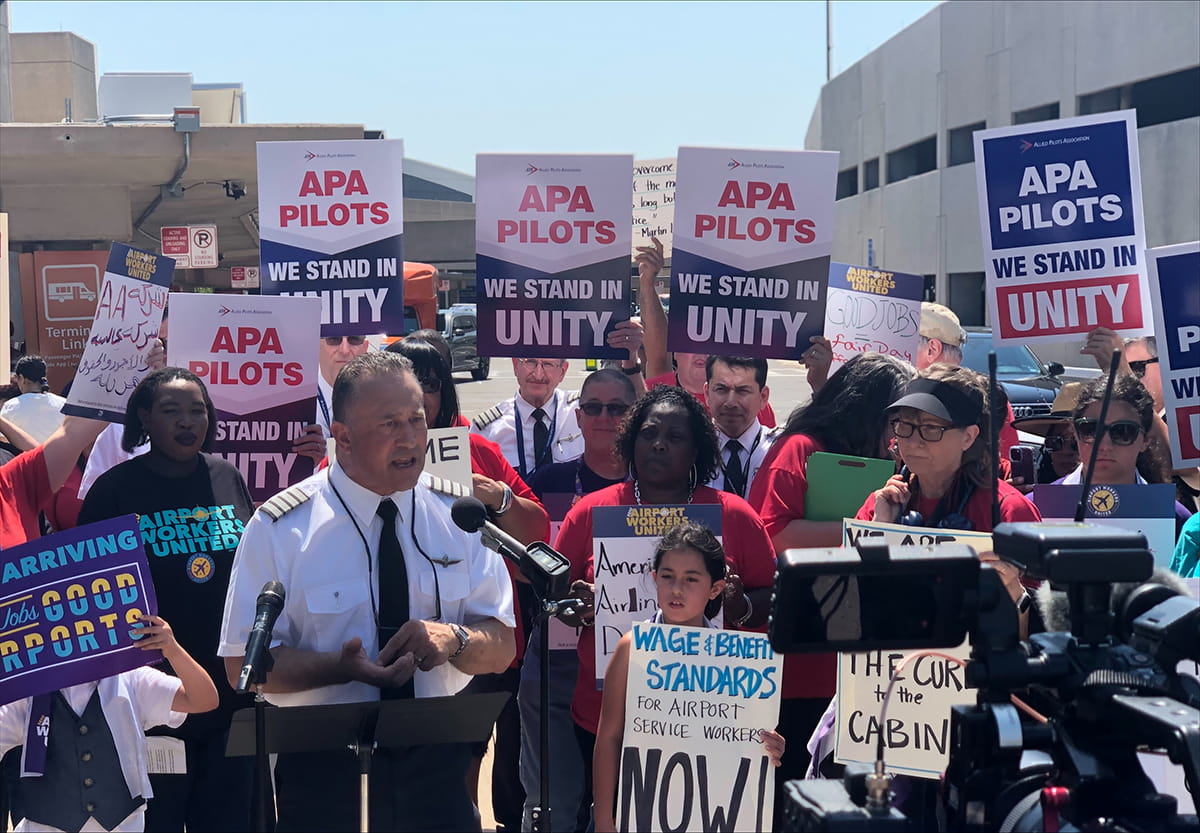 APA President CA Ed Sicher spoke during SEIU's rally on Wednesday at DFW.
APA President CA Ed Sicher, Vice President CA Chris Torres, STOP Committee Chair CA Steve Pacheco, and STOP Committee Deputy Chair CA Andrea Hoover – along with several other APA pilots plus representatives from the APFA, TWU, and CWA – joined Service Employees International Union (SEIU) leadership and rank-and-file members on the picket line at DFW on Wednesday to reinforce the SEIU's message to the traveling public: American Airlines management has failed to ensure fair wages and benefits for airport service workers.
"We're the ones who help make it possible for people to see their loved ones, go on a summer vacation or travel for business. Without us, the planes can't take off. Yet the airlines and their contractors treat us like we're disposable," said Payton Abrams, an unaccompanied minor escort who services American Airlines in Dallas. "American Airlines is our country's largest airline and raked in record revenue last year – there's no reason the workers who help keep AA flights running should be struggling to put food on the table without healthcare or paid time off. It's time for American Airlines to clean up the mess they've created."
"Without you, there is no interstate commerce," CA Sicher said. "And without us, together, believing in the importance of what we do, and securing by contract what we're worth, management will continue to grind us down and offer us as little as they possibly can."
---
Pushback Departure Salute with Equipment Not Clear
This is a new message from the APA Safety Committee.
APA and the Transportation Workers Union (TWU) have been working collaboratively on improving ramp safety. There have been numerous issues lately, including a trend of pushback drivers disconnecting their headsets, then giving the "departure salute" with the tug tractor not clear of the aircraft; sometimes, it's still underneath the aircraft. The Ramp Operations Manual states, "Once the pushback tractor, all other equipment and personnel are completely clear of the path of the aircraft, the Left Wingwalker will indicate readiness to depart by displaying the bypass pin to the Captain, awaiting acknowledgment from the Captain with a flash of taxi light(s) (nose or wing root), then performing a standard military salute with the left or right hand using an approved safety wand, indicating the area is clear for taxi."
Ramp Crew TWU leadership reports these instances of non-compliance with SOPs are a direct result of shortfalls in their training and mentor programs. It is well-documented by both the NTSB and the FAA that our industry is experiencing an across-the-board outflow of experienced workers; this includes ramp workers. AA ramp workers wearing orange safety vests indicates they have less than 100 days experience on the job. As they try to train this massive influx of new workers, it is not uncommon to see an AA pushback crew with a single experienced ramp worker supervising two workers wearing orange vests. 
With this concerning trend, the Ramp Crew TWU leadership advises it is crucial that captains follow the exact AOM pushback verbiage to avoid confusion (Reference AOM, Pushback/Start, Procedures, Communications).
If you encounter a ramp worker following incorrect procedures to include showing you the steering bypass pin when the area is NOT clear, APA Safety recommends you do the following:
Consider not flashing the taxi light in response to the pin being presented. Instead, the captain may turn their head side to side (signifying "no"), then point to the push tractor.
Call operations on the radio and advise them the ramp crew gave a departure salute without the area being clear. This provides immediate feedback to the pushback crew.
File an ASAP. This report provides actionable data for AA to monitor trends.
Click on the following links to see materials provided to pushback crews:
---
Our Family Navigation Team Needs You
This is a new message from the APA Compass Project.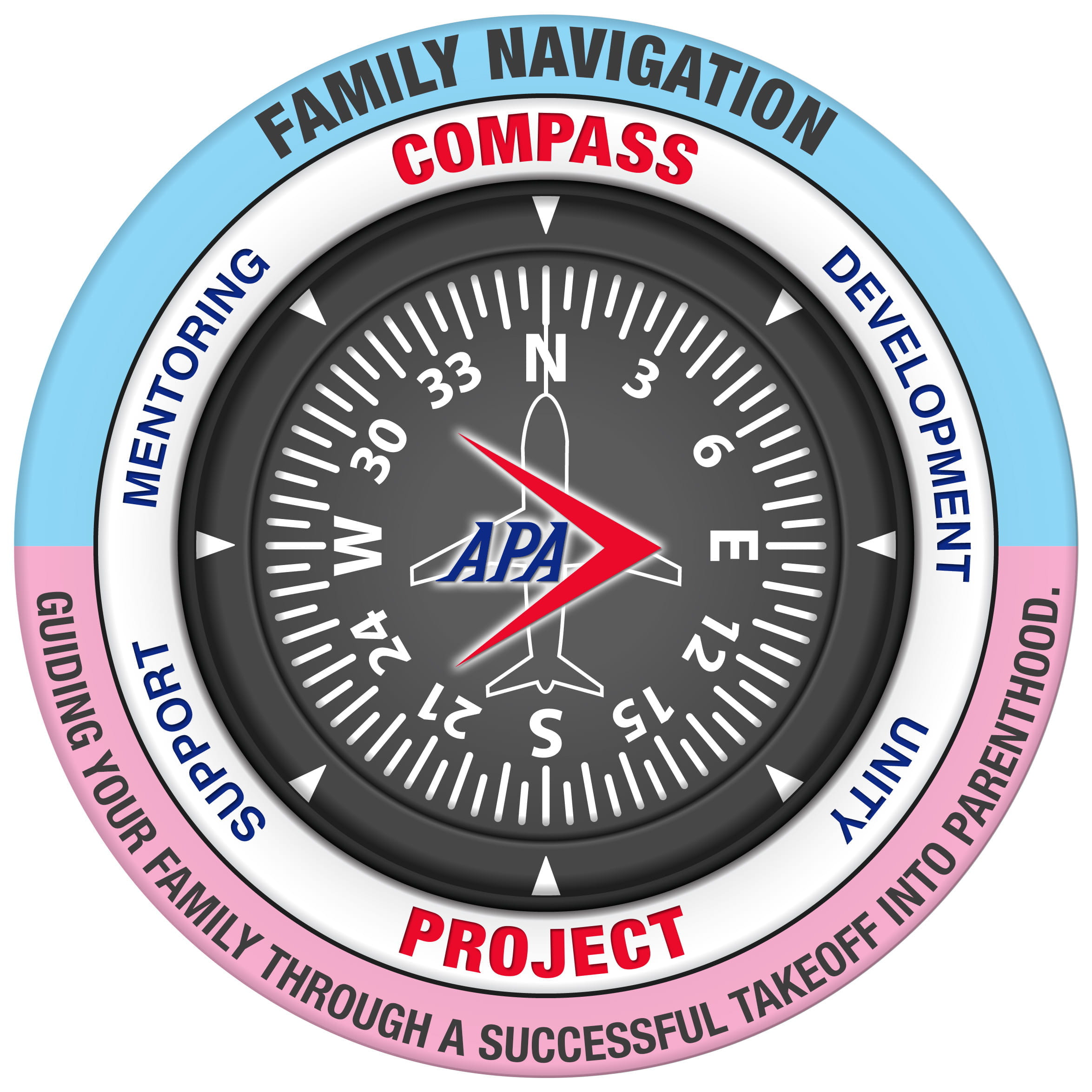 With the recent increase in pilot hiring, the Family Navigation Team within the APA Compass Project is more important than ever. Volunteers are needed to help our pilot-parents navigate all that comes with preparing for the birth or placement of a child and going out on parental leave.

These volunteers will be a supportive resource to these parents as they try to maintain their careers while being the parents their children deserve. As most parents know, it is no easy feat. Parents need to look out for one another and being a Family Navigation Team sponsor is one of the best ways to do that.

If you are a parent, passionate about helping others, and in good standing with APA, the Family Navigation Team needs you! There is an extra need for those who have experience with adoption, breastfeeding/pumping, fertility treatments, how to handle postpartum depression, and/or are based in California, Massachusetts, or New York. Anyone interested in helping will be given all the necessary tools and resources needed to ensure our pilots are given the support they deserve.

Volunteers can take on as much or as little as they like – any help provided is profoundly appreciated. If you are interested in joining this truly remarkable program, please email FamilyNav@alliedpilots.org.
The APA Compass Project is an industry-leading pilot mentoring and support program. Compass offers one-on-one support from experienced line-pilot sponsors, as well as tutorial videos and an extensive database of stage-based documents covering a number of helpful topics that are beneficial to all pilots. Click here for more information.
---
Join Us for YOUnion 101 on July 12
This is a new message from the APA Compass Project.

APA Vice President CA Chris Torres and the Compass Project's Member Engagement Team will host a "YOUnion 101" meeting via Zoom at 1100 Central on Wednesday, July 12. This meeting focuses on all aspects of APA membership. While it is geared toward our newest pilots, all are welcome and encouraged to attend.
After registering, you will receive a confirmation email containing information about joining the webinar.
---
National Town Hall Meeting on July 12
Your National Officers will host a National Town Hall Meeting via Zoom at 1600 Central on Wednesday, July 12.
Click here to register for the July 12 meeting.
These meetings are intended to provide updates to the membership from the National Officers, Board of Directors, and national committees, and there will also be opportunities to answer your questions. While registration is not required, doing so in advance will provide you with a link to the meeting and call-in numbers, as well as a reminder one hour prior to the meeting. (A Zoom account is required to register.) For those who do not wish to create a Zoom account, we will provide a direct link and call-in numbers via the AlliedPilots.org member home page on the day of the meeting. You will be able to view audio/video through a chosen device, or you can attend as audio only via a phone call. We also plan to call all members shortly before the meeting begins as a reminder to participate.
For those who are not familiar with Zoom, our IT Department has created a Zoom quick reference guide.
---
Please RSVP for Dinners at Oshkosh
This is a new message from the APA Family Awareness Committee.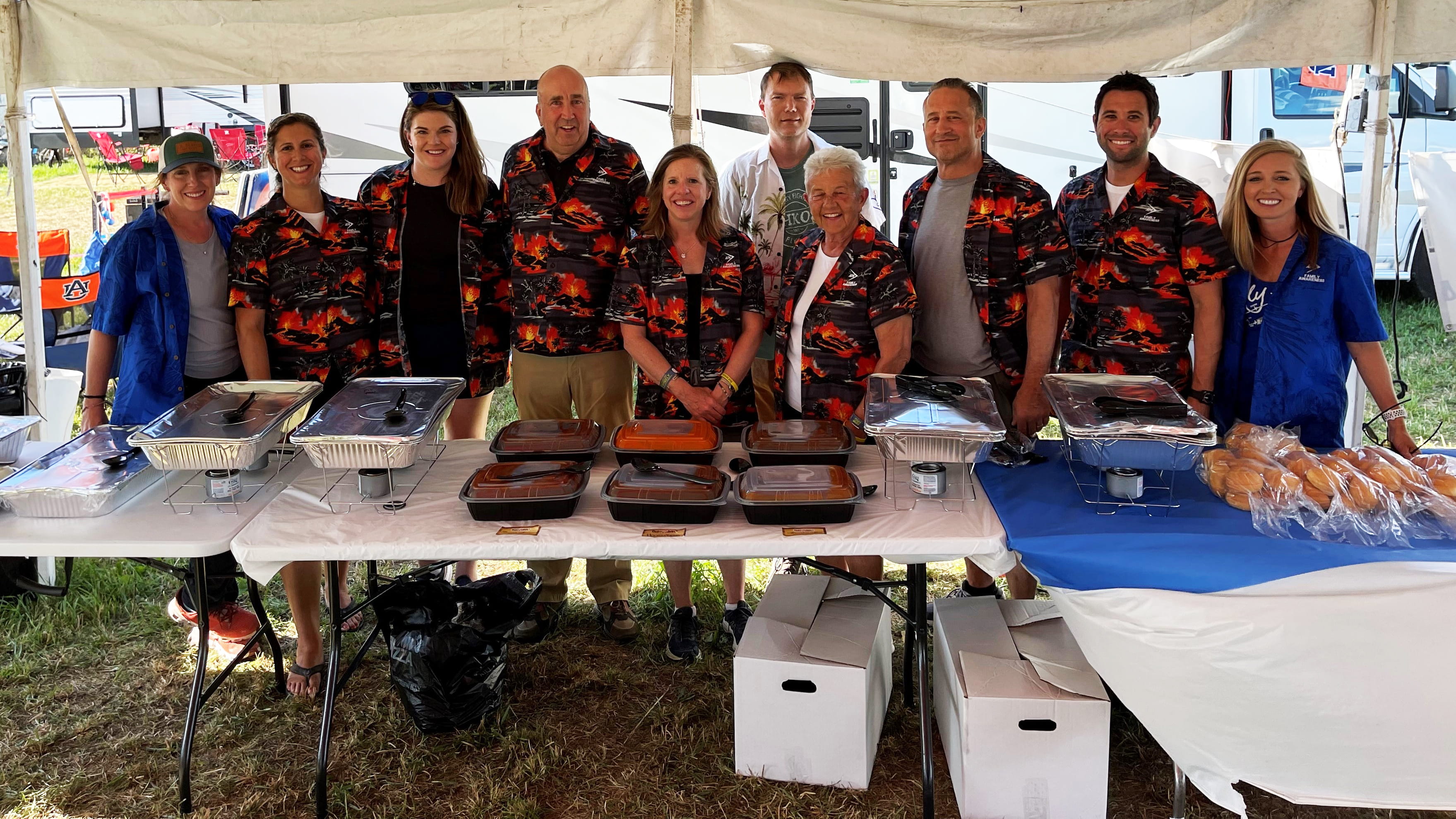 APA will be at EAA AirVenture Oshkosh for seven days next month: July 24-30. Many of your elected officials, including APA President CA Ed Sicher and APA Vice President CA Chris Torres, will be in attendance, along with volunteers from national committees. Come gain insight and perspectives directly from those making it happen. And be sure to bring your family, as there will be plenty of snacks during our nightly happy hours.
In addition to the happy hours, we are planning three dinners that week: barbecue on July 26, pizza on July 28, and tacos on July 29. If you plan to join us for any of those meals, please RSVP via AlliedPilots.org/Calendar so we can ensure there is enough food for everyone.
---
Document the Issue
This is a new message from the APA Hotel Committee.
When you send a Hotel Debrief regarding the condition of a hotel room, please attach a picture if applicable. We have received debriefs with a great description of just how bad a room is, only to have the hotel manager send AA Hotel Contracts pictures of the "exact room" the pilot stayed in, conflicting with the debrief. The problem could have been remedied in the interim, or the pictures could be of a completely different room. Sometimes videos can be helpful as well.
Recently, a pilot staying in YUL sent a video of noise outside of his room. It was the second debrief we had sent to AA regarding the issue. He told us it sounded like he was at a World Cup game, but the video truly drove the point home! We sent the video to AA, and they immediately started to work on relocating crews.
Including pictures or videos with your debrief can help communicate exactly what the problem is and what needs to be remedied by the hotel or transportation company along with the severity of the problem. If you have any issues with attaching a file to the debrief, send the debrief without it and email your photo or video to us via hotel-committee@alliedpilots.org.
For more information, see the QRH – Quick Reference Hotels document, which should answer 99 percent of all hotel and transportation questions while providing helpful solutions. Suggestion: Download this QRH document to your AA iPad for easy access in the future.
---
Can I be Rescheduled After Declaring Fatigue?
This is the latest in a series of Q&As from the APA Contract Compliance Committee.
Q: I have notified Crew Tracking that I am fatigued. When can I be rescheduled for further flying?
A: According to JCBA Section 15.K.5.a., the Company has four options after a mid-sequence fatigue call:
It can immediately deadhead you back to domicile.
It can deadhead you back to domicile after fatigue rest.
It can assign you any portion of the original sequence after fatigue rest.
It can assign you to any other flying within the footprint of the original sequence.
The choice of these options is to be made when you notify Crew Tracking of your fatigue status and estimate when you will be ready for further duty.
In practice, the Company will also search a pilot for Recovery Obligation flying after a fatigue call. This is not in compliance with the contractual language and is the subject of Presidential Grievance 17-167. If you perform the Replacement Flying assignment, you are guaranteeing the value of that RO sequence and not necessarily the original sequence. The fatigue removal will be adjudicated, and the outcome of that process will determine whether you are entitled to pay protection for an operationally driven fatigue event.
Contract Language:
Section 15.K.5. All Pilots - Mid-Sequence Fatigue
a. Pilots who have commenced (signed in for) a sequence and who determine that they cannot safely continue due to fatigue shall advise Crew Tracking. Once advised, Crew Tracking shall, if not releasing the pilot at home base, choose one of the following four options under which the pilot may be rescheduled:
(1)Deadhead the pilot to base in the same duty period, if legal, or, when not legal, if it is mutually agreeable in keeping with current procedures.
(2)Deadhead the pilot to base following the completion of a rest period.
(3)Following rest, assign the pilot to any portion of the original sequence.
(4)Following rest, assign the pilot to any other flying within the footprint of the original sequence (return to home base by the scheduled end of the original sequence). This in no way prohibits Crew Tracking from reassigning a pilot following the rest period.
---
Forest Fires and Air Quality
This is a new message from the APA Aeromedical Committee.
Each year, forest fires create havoc and greatly influence the quality of the air we breathe. To mitigate this threat, many federal agencies provide advanced data collection techniques to prepare and alert the public to the harm that reduced air quality can have on our health.
The Environmental Protection Agency's AirNow.gov provides many interactive tools, maps, and prevention strategies. Click here for useful links.
---
Pigs of the Week

APA commends American Airlines' hardworking aircraft maintenance technicians for their outstanding work. We believe they are the best in the business. When repetitive problems do arise, they're often due to managerial decisions that fail to properly prioritize tasks and to management's decision to outsource a significant portion of the airline's maintenance to offshore, third-party repair stations.
In the last month, A319 aircraft 757 has been written up 10 times for right engine bleed air, been on MEL five times, and been out of service six times. It was most recently signed off on June 24.
Since April, A321 aircraft 177 has been written up 16 times for APU bleed air, been on MEL 12 times, and been out of service seven times. At the time of this writing, it remained out of service.
After coming out of storage, then maintenance, and returning to service in April, B737 aircraft 3AK has been out of service 22 times. It was a pig in May for captain's stick shaker. Since the beginning of June, the leading-edge slats have been written up six times and been out of service five times. It most recently returned to service on June 26.
UPDATE 1: Since April, B737 aircraft 3PC has been written up and out of service 11 times for flap faults. It was most recently signed off on June 26.
UPDATE 2: Since February, B787 aircraft 8AJ's R1 door has been written up 28 times for air leak/noise and has been out of service seven times. This was most recently signed off on June 28.
---
APA Welcomes Captains' Leadership Class
This is a new message from the APA Membership Committee.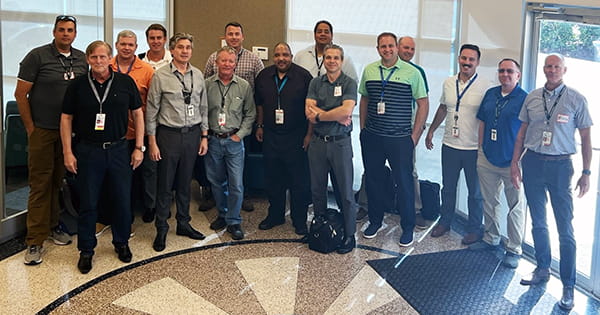 Click the image for a closer look.
On June 28, the APA Membership Committee hosted a casual dinner for the following pilots who were in Fort Worth for American Airlines' Professionalism, Leadership, and Mentoring class: Neal Baylor, Paul Berthon, Mathew Boesche, Bennie Burns Jr., Brian Cameron, Charles Dannels, Brandon Dutton, Jeffrey Hicks, John Jarred, Edward Jefarsky, Michael Jeffers, Peter Kaliniak, Eric Kalke, Mark Myers, Brent Pounders, Daniel Torres, Todd Wissing, and Ehren Zapletal.
---
APA Holiday Schedule
APA headquarters, including Contract Administration, will be closed on Monday and Tuesday in observance of Independence Day. Contract Administration will be open from 0700 to 1900 Central on Saturday and Sunday.
As always, your APA support team remains available 24/7. When Contract Administration is closed, calls will be forwarded to a phone service operated by Contract Compliance Committee and Flight Time/Duty Time Committee volunteers. Please note that call-back times may be longer than normal due to limited staffing. If your call is not urgent, we encourage you to wait until normal business hours resume.
You may also want to consult the pilot volunteers on your domicile's Contract Compliance Committee. Almost every domicile has one, and some of them have larger rosters than the national committee. Contact your local committee by visiting your domicile's page on AlliedPilots.org and clicking the "Domicile Committee List" link.
To reach a contract administrator, call APA HQ at 1-800-323-1470 and press Option 3. If you prefer to e-mail your question to the contract administrators, click here. For specific FAR 117/fatigue issues requiring immediate attention, you can also call the Emergency Help Line at 682-738-6670 manned 24/7 by Flight Time/Duty Time Committee volunteers.
---
Domicile Events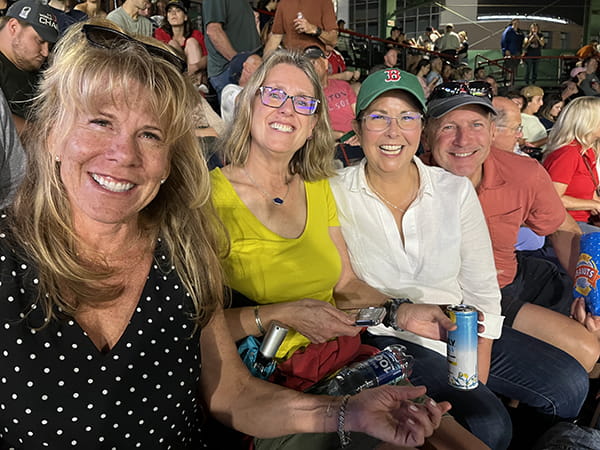 BOS pilots – including Domicile Vice Chair CA Gemma Meehan (left) – and their guests gathered at Fenway Park on Wednesday to watch the Red Sox play the Marlins. You can see more photos on our Facebook page.
Get more details about these upcoming events at AlliedPilots.org/Calendar:
DCA: Baltimore Orioles game on July 17
LGA: New York Mets game on Sept. 2
PHX: Concourse Conversations on July 20; Arizona Diamondbacks game on July 24
---
Domicile Elections
PHL and PHX pilots will elect a Chair and a Vice Chair to represent each domicile on the APA Board of Directors for a two-year term starting on Nov. 1.
The electronic submission for nomination process closed at 0001 Central today. Pilots whose names were submitted have until 0001 Central on July 7 to complete the Willingness to Serve and Conflict of Interest forms. The results of the electronic submissions will be certified at 1000 Central on July 7.
If you have any questions regarding the nomination process, please call the APA Elections Department at 817-302-2175.
---
Are You Willing to Serve?
Each of these national committees or subcommittees has the indicated number of vacancies:
Aeromedical Committee (1)

Critical Incident Response Program (1)
Disabled Pilot Awareness Subcommittee (3)
Human Intervention Motivation Study Subcommittee (3)
Pilot Occupational Health Subcommittee (2)
Project Wingman Subcommittee (4)

Captain's Authority Committee (4)
Communications Committee (0)

National Communications Network (6)

Compass Project (6)
Grey Eagles Liaison Committee (1)
Hotel Committee (2)
Jumpseat/Non-Rev Committee (4)
Professional Standards Committee (1)
Retirement & Benefits Committee (2)
Safety Committee (0)

Air Traffic and Procedures Subcommittee (3)
Environmental Sustainability in Aviation Subcommittee (2)

Scheduling Committee (7)
Training Committee (3)

Checkmate (2 on 777 and 1 on 320)

Uniform (1 female)
If you would like to serve on one or more of these committees, visit the National Committee Volunteer Portal.
---
CA Johnathan Benton to Receive Posthumous Award
Southeastern Oklahoma State University will honor longtime APA Government Affairs Committee Chair CA Johnathan Benton during its homecoming celebration on Sept. 22-23. A 1991 graduate of the university, CA Benton will be recognized as part of a group of Distinguished Alumni. The university and the Southeastern Alumni Association present the award each year.
CA Benton lost his life on Jan. 16, 2023, in a light aircraft accident in Kingfisher, Okla.
---
Professional Standards FAQs
What issues are not appropriate for Professional Standards?
Professional Standards will not normally address CBA disagreements, substance/alcohol abuse, and any immediate threat to safety of flight. The program is not designed to address issues related to security violations; legal, medical, or criminal issues; or gross negligence. Professional Standards is not able to address issues arising from "The Line" forums, nor should PS volunteers post to "The Line" forums. However, if you are in doubt about which APA committee is best suited to handle your needs, all Professional Standards volunteers are familiar with the vast network of support offered at APA and through the company. Call Your Union First!
To read all of the FAQs, click here.
Professional Standards' 24/7 hotline: 817-402-2181
---
If You're 50, Join The Grey Eagles
Are you a pilot for American Airlines, at least age 50, active or retired? Please join The Grey Eagles for food, fun, and fellowship. We offer cruises, conventions, monthly luncheons, retirement dinners, professional mentoring, and assistance to surviving spouses – all for a one-time lifetime fee.
---
Pilot Job Fairs and Future Pilot Seminars
Future & Active Pilot Advisors' next Pilot Job Fairs and Future Pilot Seminars are scheduled for July 15 at ORD followed by Aug. 19 at IAD. Click here for more information.
---
Industry News
For more about what's happening in the industry, be sure to visit the Industry News page on AlliedPilots.org.