APA News Digest
June 17, 2023
Editor's note: Some links in this message will work best if you log in to AlliedPilots.org before clicking them.
---
In This Edition ...
---
We Are Fighting Dangerous Aspects of FAA Bills
This is a new message from the APA Government Affairs Committee.
We would like to thank the APA members who have sent nearly 7,000 messages to Congress via our Voter Voice advocacy campaign regarding the mandatory retirement age.
Despite your efforts, the House Transportation Committee narrowly approved an amendment to the FAA reauthorization bill that would raise the mandatory retirement age by two years to 67. On Wednesday, that committee passed the amendment to the full House by a 32-31 vote.
We are continuing to lobby against this amendment for all of the reasons we laid out in a press release on Thursday.
"Safety considerations drove the establishment of the current international standard of age 65 mandatory retirement, and raising the pilot retirement age would introduce additional risk into commercial aviation," APA President CA Ed Sicher said in that press release.
APA Communications Committee Chair CA Dennis Tajer reiterated those points when he told Forbes, "We've had an unprecedented safety record for more than a decade, and now some are saying, 'Let's change things and see what happens.' Unstudied and untested ideas like this are unnecessary and reckless."
Meanwhile, the Senate version of the FAA reauthorization bill includes an "Enhanced Qualification Program" that would provide a 250-hour reduction in the actual flight experience requirements for a Restricted Air Transport Pilot certificate after completion of an air carrier-developed training course.
We are opposed to this measure as well, as we said in Friday's press release. And we appreciate the perspective of Sen. Tammy Duckworth of Illinois, a pilot who said this to her colleagues on Thursday: "A vote to reduce the 1,500-hour rule for pilot training will be blood on your hands when an inevitable accident occurs as a result of an inadequately trained flight crew."
---
Get Up to Speed on Contract 2023
This is a new message from the APA Negotiating Committee.
Your Negotiating Committee and Negotiating Department continue to work with management on finalizing the contract language that will be submitted to the Board of Directors for consideration as a proposed Tentative Agreement.
As that work progresses, you have time to review several other documents created by your negotiators:
Thanks for your patience as we work through the final steps of a complicated process.
---
Are You Using the Hotel Webpages?
This is a new message from the APA Hotel Committee.
APA's Hotel Webpages can easily be found via the APA Mobile app's Dashboard and on the Shortcuts (Quick Links) menu on AlliedPilots.org. They contain much more information than CCI-HIDIR/HTL and are worth a look before your next trip.
These webpages are pilot-centric and focus on what you need for your layover, including links to the hotel's website and phone numbers, a map of the area, and perhaps most importantly, specific information on transportation and how to get to the pickup spot/hotel. 
The Amenities sections include how pilots feel about the hotel and transportation as indicated by survey data. Additionally, this section goes over information such as pilot discounts offered and any warnings from APA. (Example: "Avoid even numbered rooms due to excessive road noise.") 
Finally, there are Food, Activities, and Reviews sections with information submitted by other APA members. The Hotel Committee relies on you to keep this information accurate and relevant. There are "Feedback" buttons on each page so you can provide your requests, recommendations, and any necessary corrections. 
We hope these pages are a tool to enhance your layover experience; we appreciate your feedback!
For more information, see the QRH – Quick Reference Hotels document, which should answer 99 percent of all hotel and transportation questions while providing helpful solutions. Suggestion: Download this QRH document to your AA iPad for easy access in the future.
---
MyOT Text Service INOP
This is a new message from the APA Information Technology Steering Committee.
We have had reports from members, associated with every major cellular carrier, that they are encountering delivery issues with the MyOT Text service. This has been a pretty common occurrence over the past few years for cell carriers to flag email-to-text messages as spam, or to throttle their delivery, but in the past we have been able to remedy those situations in a timely manner.
We're continuing to investigate the issue and have engaged each cellular carrier, but in the interim APA IT suggests you utilize the APA Mobile Inbox, or email, as the delivery
mechanism for MyOT messages.
Here's how to enable APA Mobile Inbox delivery:
Select Mobile Sabre.
Select DECS links -> MyOT.
Select "Change Alert Address."
Select the check box by "APA Mobile Inbox/Notifications."
Select "Update."
---
Can I Get a Hotel Room in Base?
This is the latest in a series of Q&As from the APA Contract Compliance Committee.
Q: Am I ever entitled to a hotel room in base?
A: Yes, in conjunction with the Section 7.A.8 language. When you have a scheduled ODL in base and are to continue your sequence with future flying, a hotel room will be provided by the Company. This could be the result of a fatigue event.
Exceptions:
Sequence termination, in base. The contractual language would not require that a hotel room be provided between two sequences (e.g., individual RO sequences).
Reserve Pilots. Reserve pilots are not permitted to overnight in base.
Section 7.A.8
In flying a trip sequence, layover rest may be taken at the pilot's base, as if the rest were taken away from base and the provisions of Section 7 and Section 15.F and 15.G., if applicable, shall apply.
---
Pigs of the Week

APA commends American Airlines' hardworking aircraft maintenance technicians for their outstanding work. We believe they are the best in the business. When repetitive problems do arise, they're often due to managerial decisions that fail to properly prioritize tasks and to management's decision to outsource a significant portion of the airline's maintenance to offshore, third-party repair stations.
Since May 29, A321 aircraft 971 has been written up six times for airframe vibrations. It recently repeated after flying to a maintenance base for repairs under a Special Flight Permit. It was most recently written up on June 15 and was out of service at the time of this writing.
Since the beginning of May, A319 aircraft 746 has been written up eight times for airframe vibrations. It has flown under a Special Flight Permit to a maintenance base for repairs three times, most recently on June 16. At the time of this writing, it was out of service.
Since April, B737 aircraft 3PC has been written up and out of service eight times for flap faults. This was most recently signed off on June 12.
UPDATE: Since February, the R1 door on B787 aircraft 8AJ has been written up 24 times for air leak/noise and has been out of service five times. This was most recently signed off on June 16.
---
APA Welcomes Captains' Leadership Class
This is a new message from the APA Membership Committee.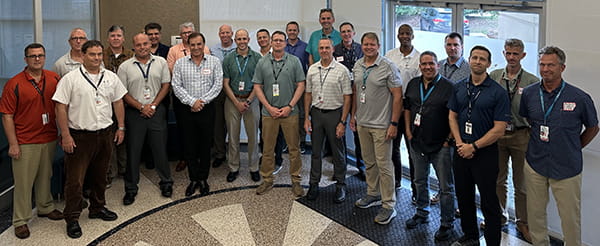 Click the image for a closer look.
On June 14, the APA Membership Committee hosted a casual dinner for the following pilots who were in Fort Worth for American Airlines' Professionalism, Leadership, and Mentoring class: Nicholas Amini, Balend Banham, Christopher Biggs, Durand Branch, Dustin Brisson, Brian Cameron, Biagio Colandreo Jr., Frank De Leon Jr., David Devoe, William Dodd, John Dwyer, David Elliott, Eric Enggasser, Garrett Greiss, Nicholas Guttman, Matthew Hall, Nathaniel Hesse, Charles Holleman, Christopher Jones, C. Christian Klein, Joshua Laquerre, Seth Mccollough, Ryan Mcgill, Timothy Mezera, Edward Miles, Christopher Murray, Joseph Panettiere, William Randolph, Marco Rodriguez, Michael Sanders, James Schmehl, Christopher Schwamberger, Stephen Siminski, Mark Sparks, Tevita Tangataevaha, Derreck Westrich, and William Zink.
---
Domicile Events
Get more details about these upcoming events at AlliedPilots.org/Calendar:
BOS: Boston Red Sox game on June 28
DCA: Domicile Meeting on July 14; Baltimore Orioles game on July 17
PHL: Philadelphia Phillies game on June 20; Domicile Meeting on June 23; Retirement Dinner on June 23
PHX: Concourse Conversations on July 20; Arizona Diamondbacks game on July 24
---
Domicile Elections
PHL and PHX pilots will elect a Chair and a Vice Chair to represent each domicile on the APA Board of Directors for a two-year term starting on Nov. 1.
The electronic submission for nomination process is now open, and it will close at 0001 Central on June 30. Pilots whose names have been submitted have until 0001 Central on July 7 to complete the Willingness to Serve and Conflict of Interest forms. The results of the electronic submissions will be certified at 1000 Central on July 7.
If you have any questions regarding the nomination process, please call the APA Elections Department at 817-302-2175.
---
Week in Review
The following messages were sent since last week's News Digest was published.
---
Are You Willing to Serve?
Each of these national committees or subcommittees has the indicated number of vacancies:
Aeromedical Committee (1)

Critical Incident Response Program (1)
Disabled Pilot Awareness Subcommittee (3)
Human Intervention Motivation Study Subcommittee (3)
Pilot Occupational Health Subcommittee (2)
Project Wingman Subcommittee (4)

Captain's Authority Committee (4)
Communications Committee (0)

National Communications Network (6)

Compass Project (6)
Grey Eagles Liaison Committee (1)
Hotel Committee (2)
Jumpseat/Non-Rev Committee (1)
Professional Standards Committee (1)
Retirement & Benefits Committee (2)
Safety Committee (0)

Air Traffic and Procedures Subcommittee (3)
Environmental Sustainability in Aviation Subcommittee (2)

Scheduling Committee (8)
Training Committee (2)

Checkmate (2 on 777 and 1 on 320)

Uniform (1 female)
If you would like to serve on one or more of these committees, visit the National Committee Volunteer Portal.
---
Professional Standards FAQs
What if I have a challenge with a Check Airman?
Professional Standards is a natural necessity for the Check Airman community, just as it is for line pilots. Make your union the first call in an attempt to assist in a solution with human interaction issues that arise on a daily basis. We have established a specialized "domicile" for the Check Airman community. When you call the phone tree (817-402-2181), simply input "CKA" or say "Check Airman" to be routed to the appropriate volunteer for handling your case.
To read all of the FAQs, click here.
Professional Standards' 24/7 hotline: 817-402-2181
---
If You're 50, Join The Grey Eagles
Are you a pilot for American Airlines, at least age 50, active or retired? Please join The Grey Eagles for food, fun, and fellowship. We offer cruises, conventions, monthly luncheons, retirement dinners, professional mentoring, and assistance to surviving spouses – all for a one-time lifetime fee.
---
Pilot Job Fairs and Future Pilot Seminars
Future & Active Pilot Advisors' next Pilot Job Fairs and Future Pilot Seminars are scheduled for July 15 at ORD. Click here for more information.
---
Industry News
For more about what's happening in the industry, be sure to visit the Industry News page on AlliedPilots.org.